Mon Apr 28 2014
Rainbow Chalkboard Classroom Theme
If you are new to my blog, you may not know the story behind my Rainbow Chalkboard classroom theme… I am really really good friends with Maria Manore who is the genius behind the blog, Kinder-Craze.  Maria and I developed a friendship after she came to my garage sale (sounds weird, I know) two years […]
If you are new to my blog, you may not know the story behind my Rainbow Chalkboard classroom theme…
I am really really good friends with Maria Manore who is the genius behind the blog, Kinder-Craze.  Maria and I developed a friendship after she came to my garage sale (sounds weird, I know) two years ago.  Maria is also from Michigan, but lives about 45 minutes away.  I advertised that I was selling all of my teaching supplies when I decided to leave my teaching position to pursue Schoolgirl Style full time. Maria contacted me through my blog and she made the drive to my house.  Long story short, we became good friends.
Maria and I love to talk about decorating.  During one of our conversations, I offered to help her decorate her classroom for the upcoming school year.  This is where it all began.
 I asked her the important questions…
What are your favorite colors?  What are you drawn to?  What don't you like?   The list went on and on and on…
Ultimately, we decided on a rainbow pattern, but decided to add chalkboard to it.  I won't bore you with the details, but Maria was VERY nervous.  I remember saying to her…"Just trust me."
 Well, thank goodness she did because this is how it turned out…
"Beautiful" doesn't even BEGIN to describe this space!
I envisioned a playful environment that celebrates young children…that's where the silhouette idea came from.
Maria adores bright colors and knew that she had to have a palette of pinks, greens, turquoise, lavender, orange, and yellow (her favorite color)!
Check out her awesome classroom library.  How sweet is that silhouette?  It looks PERFECT in that particular spot!
This was the area above Maria's windows.  We decided to make this the focal point of her classroom, since this is the first thing you see when you walk in.  I knew this is where our "WOW" factor needed to be.  These adorable silhouettes sets the tone AND the theme for our classroom design.
We dressed up boring windows with this pretty pennant banner!  One of the best things about Schoolgirl Style products…print out as much as you like!  You never have to worry about running out.  Once you own the file, you have an unlimited amount of decor at your fingertips!
Maria created an adorable name banner above her desk!  I LOVE the ribbon accents!
Lanterns, border, paper, and caddies can all be purchased in the Schoolgirl Style Shop.
Maria used my labels to create daily work bins.
Can you imagine walking into this room everyday?   Maria used accents of pink chevron throughout her room.  She used it on her prayer table (she teaches in a Catholic school), as cushion covers in her reading area, and in her computer area.
Maria spray painted the file cabinets her favorite color…YELLOW!  I love the cute silhouette accents!
This is  a view of Maria's guided reading area and desk/teacher work area.
Maria also created several decor items to coordinate with her room.  She has a number line, an alphabet line, and several other items.  Head over to the Kinder-Craze blog to see EVERYTHING!
Decor close-ups
Below are photos of the Rainbow Chalkboard collection.  You can see all of the beautiful items that come in the set.  Lanterns, bulletin board paper, border, and caddies can all be purchased in the Schoolgirl Style Shop.  Most of the decor items are editable…just click in the highlighted field and type away.  We used the font KG Lego House for Maria's room.
Giveaway!
Do you want YOUR classroom to look  just like Maria's?  Now is YOUR chance to own this beautiful collection along with your bulletin board paper and border from Pacon.  Plus, I'm going to give you coordinating lanterns to hang in your room too!
I've teamed up with Maria to offer you an amazing prize package!
Just curious…do you follow Maria yet?
You've peeked inside Maria's classroom, but do you know her as a blogger?
Maria is one of the BEST bloggers out there…hands down.  Now when I say "best blogger,"  I'm talking about the content on her blog and the products she creates.   Maria sets the bar pretty high when it comes to her attention to detail (something that I really appreciate and value AND you can see this in her classroom design).  Everything she puts out there is impeccable.  I follow her not only because she is my good friend, but because  she is one of the best at what she does!
I would love for all of you to "meet" Maria and take a look at her amazing blog!  Head on over to her site and you can take a look around AND enter our giveaway!
Here are the prizes:
-Rainbow Chalkboard full digital collection from Schoolgirl Style
-Fadeless paper from Pacon
-Coordinating border from Pacon
-Lanterns from the Schoolgirl Style Shop
Over $100 value!

Let's Go Shopping!
Photography: E.C. Campbell Photography (E'lisa took the photos below Maria's classroom photos)
Rainbow Chalkaboard decor: Schoolgirl Style Shop
Fadeless bulletin board paper:  Schoolgirl Style Shop
lanterns:  Schoolgirl Style Shop
children silhouettes:  Schoolgirl Style Shop
border:  Schoolgirl Style Shop
metal pails, black cube baskets:  Target
large clothespins, ribbon, flowers: Michaels
ribbon:  Joann Fabrics
Colored buckets:  Party City
paper: Staples (I used a high gloss photo paper for best results)
Most items are editable and can be personalized for a custom look  (Type in your student's names and customize classroom labels…perfect handwriting every time!)
---
Creative Bulletin Board Ideas
Fall inspired Classroom Resources for Teachers.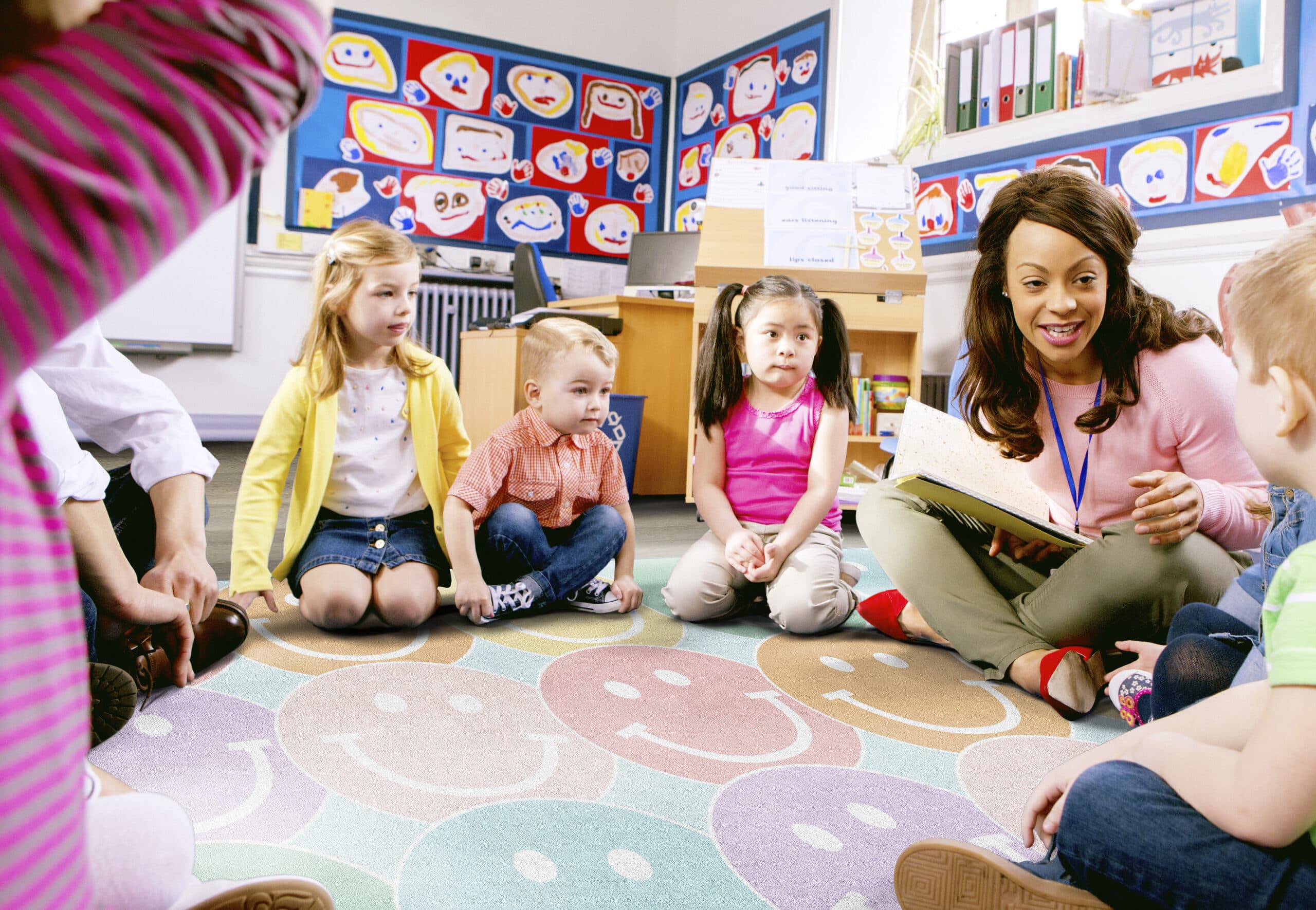 Classroom Rugs | 10 reasons to bring one into your learning space.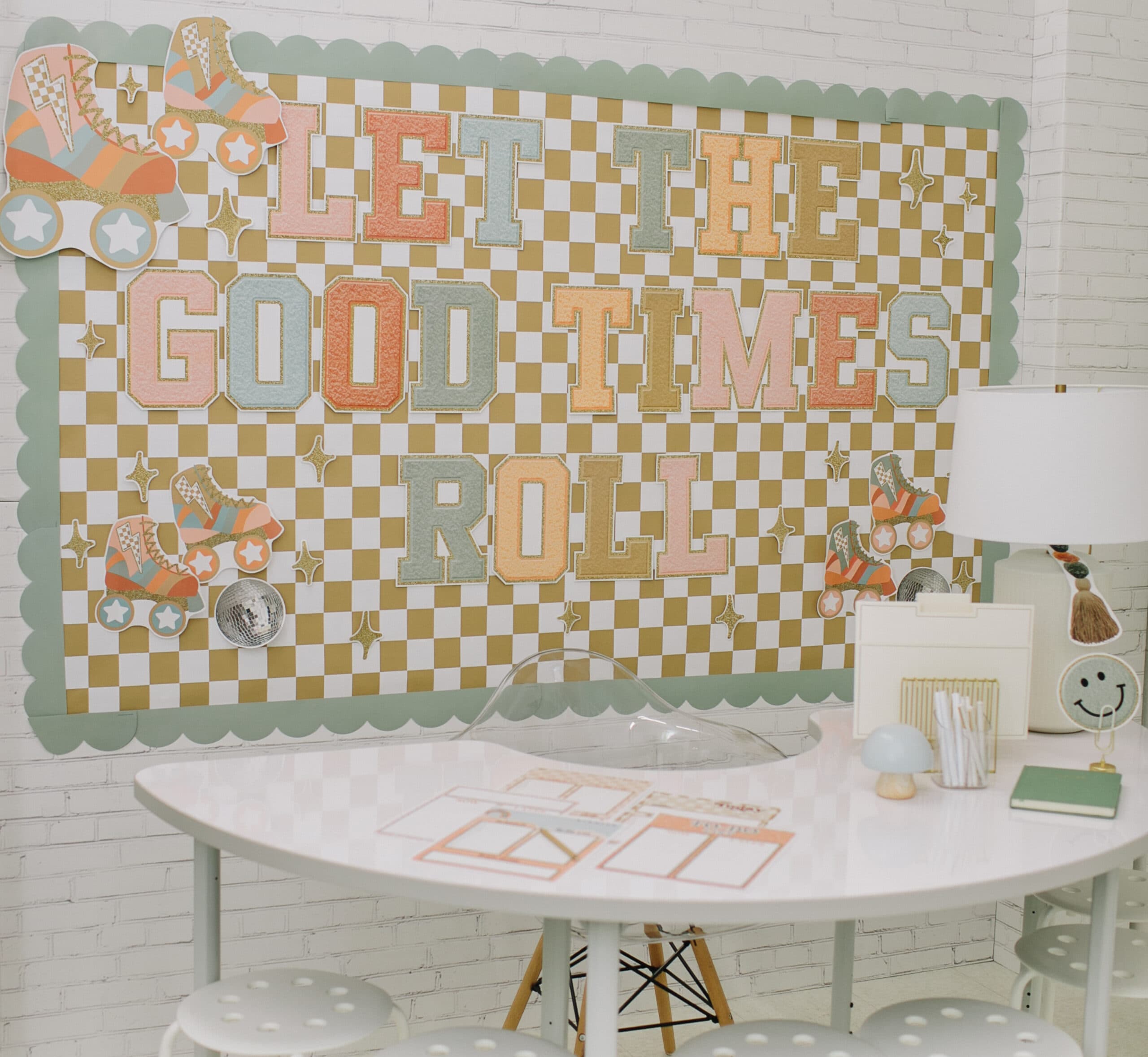 Three Beautiful Retro Classroom Decor Themes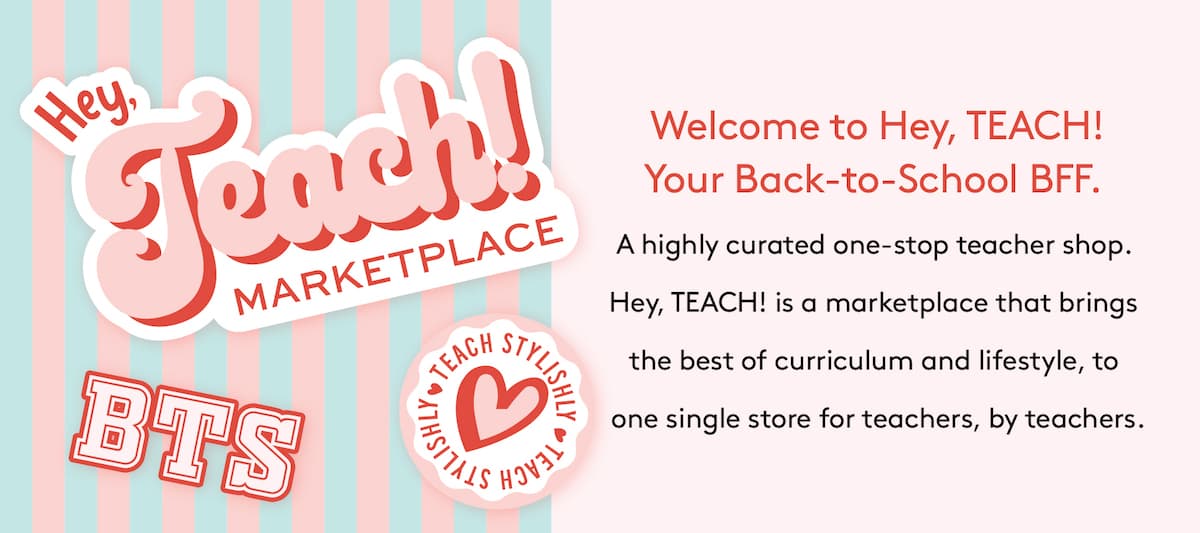 The Back to School Checklist for Teachers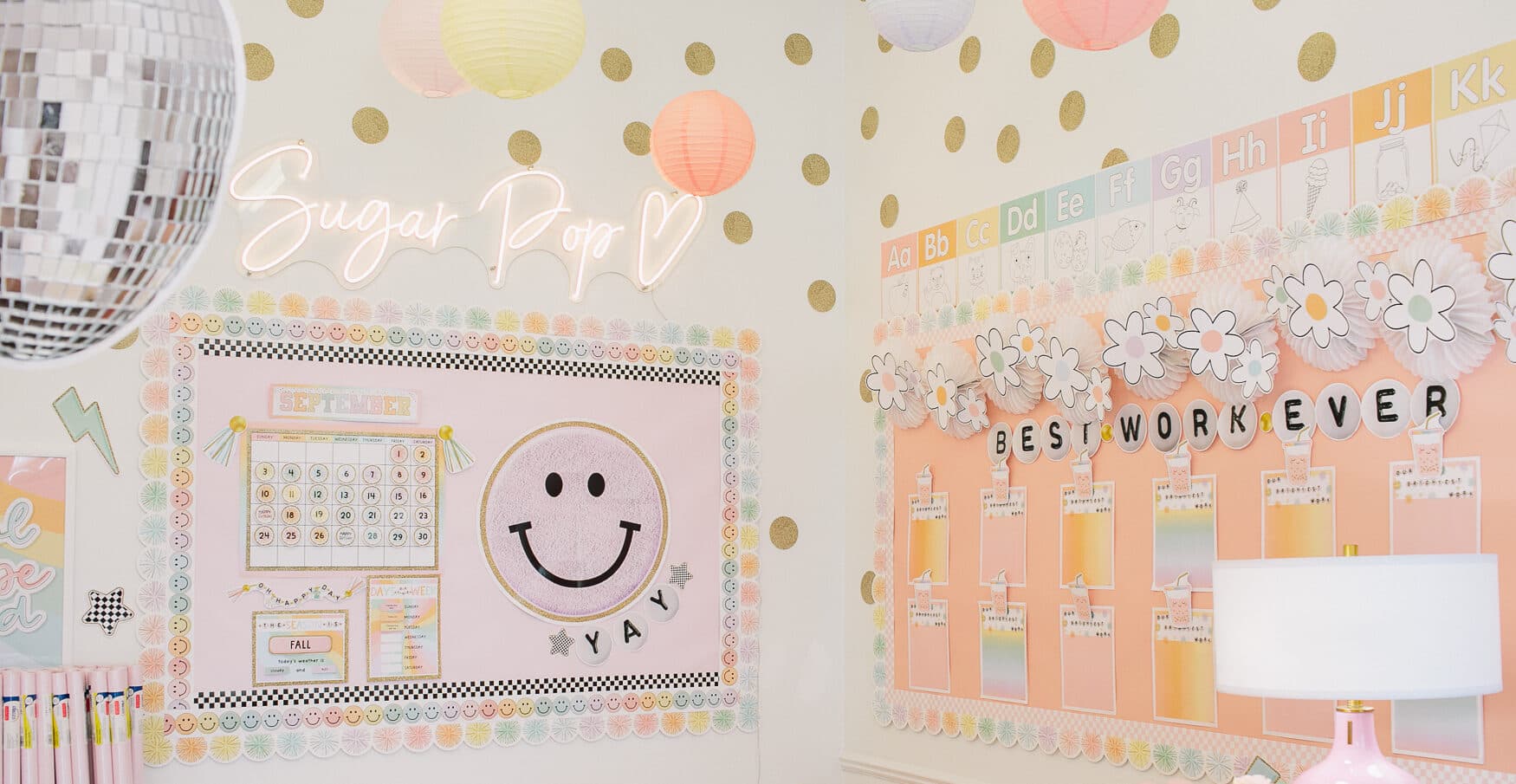 Sugar Pop | Rainbow Pastel Classroom Decor
Midnight Meadow | Wildflower Classroom Decor Theme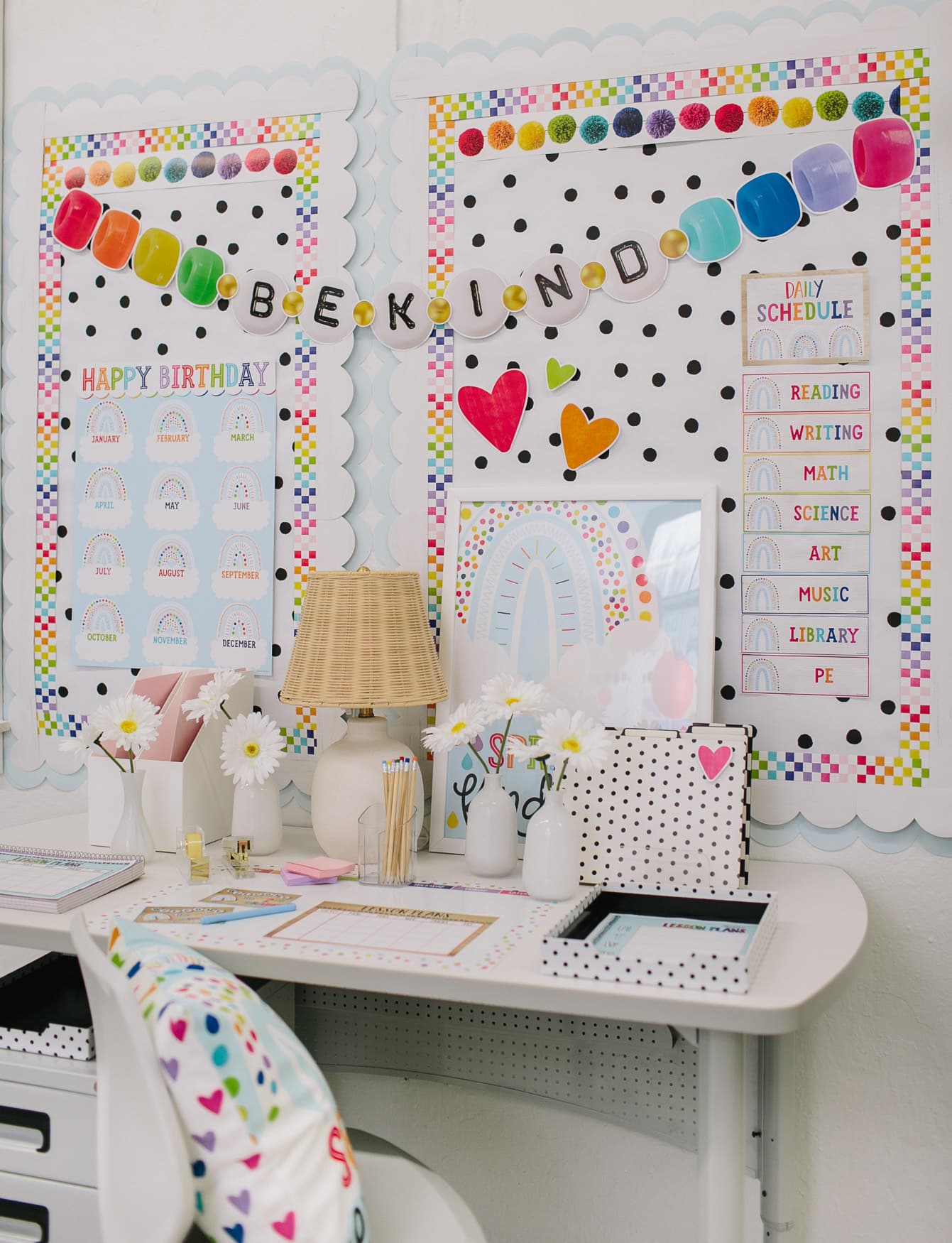 Sprinkle Kindness | Rainbow Classroom Decor
Retro Classroom Decor Inspiration
Send me the latest on Schoolgirl Style!