Sun Apr 23 2017
Confetti Crush Collection
Welcome!  Long time no see!:)  I know that so many of you wondered what happened to me this last year.  Blogging certainly hasn't been my strength. Being a very busy mom and teacher, I've neglected this site a teensy bit in exchange for some much needed family time. In addition, if you've stopped by the […]
Welcome!  Long time no see!:)  I know that so many of you wondered what happened to me this last year.  Blogging certainly hasn't been my strength. Being a very busy mom and teacher, I've neglected this site a teensy bit in exchange for some much needed family time. In addition, if you've stopped by the Schoolgirl Style Shop lately, you'll also notice that the classroom accessories are no longer there.  I've had many emails from teachers freaking out and wondering what happened!  People have asked if I've gone out of business and just wondering what happened in general.  Believe me, it was a long, heart-wrenching decision, but in the end, I knew that I did the right thing.
I fully intended to give you the whole scoop about this last year before I started the reveal, but didn't anticipate how crazy it would be to get all of the collections up before today.   After I show you the new collections, I plan to end the week with all of the details about the Schoolgirl Style Shop.  I also have a fun announcement that I can't wait to share!
Here is the line-up for the week:
I hope you stop by and check everything out.  I am in LOVE with each and every collection I created this year!
Are you ready to get started?!?  I've waited such a long time to show you this one and I AM READY!
My first collection is near and dear to my heart…INTRODUCING CONFETTI CRUSH!
Confetti Crush is in my own classroom this year and it is absolutely stunning!  I created this collection with function in mind.  Not only do I love a beautiful space, but this room has been the ultimate in classroom organization.
WELCOME TO MY CLASSROOM!
Last year, I had black bulletin board paper throughout my room (check out Color My Classroom Collection HERE) and loved how it created such a nice contrast with the colors I used throughout the room.  This year, I went in a complete opposite direction…I chose WHITE.  I have never used white in my entire teaching career, but white made sense to me.  I wanted the colors to stand out and I wanted the children's work to be the focus in the room.
I am so drawn to stark white rooms that have pops of color sprinkled everywhere.  I love how the colors just come alive off of a blank canvas.  I wanted to create a similar feeling with this space.  I love rainbow colors, but I really wanted them to be the focal point of the classroom without it feeling too busy.  The walls are white, most of the furniture is white, the bulletin boards are white, I painted the doors white, the large lanterns are white, and even used white/clear storage containers throughout.
It really felt bright, airy and open.  I even kept the ceiling decorations to a minimum this year.  I chose five large lanterns to mimic confetti balloons for a whimsical touch and to pull my confetti theme together.

Last year's room had a large calendar near the door that I loved so much!  This year, I had a Smart board installed in its place.  I miss my calendar, but I really needed the technology in my classroom.  I also wanted to free up as much bulletin board space as I could throughout the room, so I had my dad screw two smaller boards into the back of my white shelves to give me another area to hang up resources for my students.
I also enlarged my library area this year and created a cozy, reading space for my kids.  I wanted the space to feel like a mini Barnes and Noble with mountains of books that the children couldn't wait to get their hands on!  If you notice, I also left a large space of open bulletin board to display my student's work.  Keeping the walls as empty as possible was a priority for me.
Each area of the room was organized with a specific purpose in mind.  All of my math materials are displayed in clear containers, so my students can quickly find what they need.  The top of the shelf holds their writing journals (everything is color-coded).  The shelving along the carpet area houses my student's math boxes (these are color-coded as well).  My students know exactly where to find their materials based on the color they were assigned at the beginning of the year.  The large, open area above my windows is used for their self-portraits.
Since my students are little people, I actually walked around the room on my knees to get the feeling of how it all looked from their vantage point.  The area above the windows are too high for them and I knew it couldn't be used for reference material.  This area COULD be more of a decorative focal point of the room, since it's wasted space.  This area is where I like to get creative, however, self-portraits are always a classroom favorite!  I went back and forth with whether I wanted actual photos of my students or drawn portraits.  I ended up having them do a directed drawing instead.  This has been a favorite among parents and visitors!  Their sweet drawings of themselves turned out SO cute!
Again, this is where I keep my student's math boxes.  Underneath, the boxes are just my supplies.  I have birthday crowns, stickers, dry erase markers, calendar pieces, pointers, etc.  Basically, it's everything I need to teach a whole group lesson while the kids are sitting on the carpet.
If you haven't noticed already, the classroom has the most adorable cat and dog accents…these are called my "Party Animals!"  I've sprinkled these cuties throughout the room.  My students just LOVE them!  You can purchase the Party Animals separate if you would like.  The file includes the cutouts, these chalkboard name tags, and bulletin board accents.  The bulletin board accents (you'll see these in several photos) are used to look like they are peeking over your board!  You can also use them to hold student work or posters.  Several of my cutouts were enlarged at Staples to fill spaces throughout the room where I couldn't hang student work.  *They were enlarged to an 18 x 24 size.
This is an Interactive Math book.  Again, the students were assigned a color at the beginning of the school year, and everything they have (name tag, nameplate, photo card *I use these for our Word Wall and Center rotations, independent reading box, their math box, writing journal, and their student portfolio) are all the same color.  Target carried all of the folders, notebooks, and binders last year, right before school started.  They coordinated perfectly with my theme!
I also love the coordinating ribbon on each handle.  This helps my students find their journals quickly.  I bought all of the ribbon from the Hallmark store.  I love the thickness of their ribbon and the colors are just perfect!
For all of you ROY G BIV fans out there, the entire room was organized in this pattern.  From the storage containers, to the borders…this gives the room the rainbow effect throughout.
The number cards and shapes are included in my NEW "Just Teach" pack.  This will be explained in detail this week.  This new pack sells "everything but the kitchen sink."  I used almost every ounce of it in this room.  You will now have the ability to purchase the entire pack or individual pieces that fit your needs.
These large lanterns were created to look like confetti balloons.  If you are looking for the large size lanterns, you can purchase 18 inch lanterns OR jumbo 30 inch lanterns from Oriental Trading.  The new alphabet cards with the images are included in the "Just Teach" pack or you can purchase them separately.
A Birthday Bulletin Board Set is now included in our new collections this year.  I also used the site, Zazzle, to make coordinating items for my classroom.  The confetti pillow was created by downloading one of the papers included in the collection.  I also made some posters and coffee mugs for myself and my classroom aide.
I used scalloped ombre borders paired with a coordinating solid border to create a bold statement around my bulletin boards.  I also used large polka dots to create an additional border – this helped to tie in the confetti theme.  To create the polka dot border, I purchased colored paper from Michaels and a large circle punch.  I punched out one circle from each color included in the pack.  I then laid all of the circles out and created a color pattern that I liked.  I threw out some colors that felt a little "off" or too dark.  When I finally came up with the colors I liked, I punched out a ton to use on my boards, lanterns, and sprinkle on my tables for Open House.
If you feel a little intimidated by picking out colors yourself, Oriental Trading carries something similar.  They sell paint chip circles in a bag.  You get 1200 circles at an inexpensive price!  You can't go wrong with this package and they have a great color combination already chosen for you.  The only difference between my circles and OTC's – their circles are about half the size.  This may work out better if you have a smaller area to cover.  My boards are the length of the room, so I needed something much larger.
I used the scallop borders around my charts and calendar.  This helped to keep the items from getting lost on the board.  Most of the items on the board are included in the "Just Teach" Rainbow pack and can be purchased as an entire collection or separately.
This collection also includes these adorable pennant banners in every grade level.  I used a clear jar (they have a hole on top for a straw) and filled them with dollar store vase fillers for weight.  I lined the jars with coordinating paper from the collection.  I placed the pennants on tables and around the classroom for a festive look.
Our Self Portrait posters are ready!
Here is a cute shot of our Party Animals peeking over the bulletin board.  Can these animals get any cuter?!?
The orange rug was purchased from Wayfair.  This has a shag to it, so it's not great for using manipulatives or putting puzzles together.  It is very cozy and soft though, plus it does seem to hide any wear and tear.
I know that I'm going to get lots of emails asking me where I got the totes at the bottom of the shelf.  These were from my Schoolgirl Style Shop from last year.  I purchased them from a wholesale company and they do not sell to the public.  Honestly, I'm not aware of any place that carries them.  If you've seen these anywhere, please let me know, so I can pass this information along to others!
More Party Animals!
Another big change this year is my desk area.  If you remember, I had a smaller desk that overlooked my classroom.  I ended up giving the desk away and replacing it with a shelf unit from Ikea.  I use the shelf for classroom supplies.  Instead of a desk, I took this old closet area (the doors had been removed before me) and my dad built a simple counter for my computer, printer, and desk accessories.  I purchased two white file cabinets for storage underneath.
When I thought about "my area," I wanted it include things that would make me happy…pretty desk accessories, flowers, supplies, flair pens, and my own little coffee bar.  I used my turquoise Ikea cart from last year and spray painted it white.  My dad flipped over shelf to fit my Keurig on top.  I added a piece of gold polka dot poster board from Hobby Lobby to bring a little bling into my space.
I added pretty gold accessories throughout, and of course, I HAD to add some glitter somewhere!  The glitter frame is from Joss and Main.
Inside the frame are my LOVES and my entire life.  My oldest son is 20 years old and I have my two little ones.  My three babies are the reason for the little break this year.
The pretty gold foil print in the top left corner is from someone else who is very special…this was a gift from my friend, April.  April is my talented friend from Texas and she has the blog, A Modern Teacher.  April is my confidant and my truest friend that I have.  After blogging for six years, I have found that this business can be hard – much harder than I had ever anticipated for so many reasons.  April is my sounding board, my voice of reason, and has been there for me since the beginning.  It is hard to find people that you can really trust and who truly want the best for you, but I've found that kind of friend in her.  I'm so thankful for our friendship.
Another print from April…
Last year, this hutch was filled with books.  This year, I've filled it with just pretties (and things I use too).  In the cupboards are teacher manuals, curriculum, and all kinds of different unit binders.  The drawers have stickers, my sub plans, and admittingly…junk.
My husband made this peg board for me last year, but I decided to use it a little differently.  I love Flair pens and Sharpies, so why not display them?  I use this a ton actually.  Underneath, I added some hooks for my teacher bag and coat.
These gold jars are from Target.  I noticed that they still had them when I was there last week.  I can't ever resist a scallop…and it's GOLD too!


I originally planned to put this large banner in the hallway, but changed my mind.  I love it above my desk and it fit perfectly there.  I had this enlarged at Staples…it could actually be much bigger if you want it to be.
This is the area that I use for classroom supplies.  If my kids need anything, they know where it is and can get it on their own.  They also love the colored pencil and crayon area!  When you have community supplies (like we do), sometimes it's tough to find the color that you need.  They can just come over and get whatever they want from the little baskets.  I think it is so important to give credit where credit is due and this great idea was from Kristen from A Ladybug's Teacher Files.  Kristen is also the queen of color coding.  If you want to know more, head over to Kristen's blog for some great ideas!  
Another shot of my desk area and my new teacher bag.  My bag is a "Ted Baker" and from Nordstrom.  It is absolutely adorable and has some of my favorite elements…scallops, a big bow, and gold!
This collection includes a BEST DAY EVER banner and this CELEBRATE LEARNING banner.
I really had good intentions for this area with the folders.  Maybe a daily organizer OR a curriculum organizer?  Unfortunately, it never worked out as planned…this holds everything I don't know what to do with OR have time to put away.  Honestly, it is a mess!  I'll clean it out at the end of the year and will try really REALLY hard to keep it organized next year!
My classroom library…
I LOVE book stores!  I especially love the children's area – I feel like a kid in a candy store!  I wanted to give my students that same feeling when they come into their classroom.  I envisioned this area to be filled with picture books, informational books, seasonal books, holiday books, and so much more!  They needed animals to cuddle with and read to.  They needed a soft area to put their feet up and relax.  They needed chairs to sit on and a way to be able to share a book with a friend.  I wanted to create a magical space where they can get lost in a good book.
In addition to my classroom library, I've also created a new book labeling system that coordinates with my classroom.  I have over 180 book labels to ensure that your library is organized and functions smoothly.  I am so SO proud of this product!  The graphics are absolutely beautiful and it's super easy to incorporate into your own classroom! *Each new collection will now offer coordinating book labels for your classroom library!
Another close-up of our new book labeling system…
and another…
The stuffed animals are very popular with my kiddos – especially the white cat, Snowflake!
I hope you enjoyed the tour of my second home!  There hasn't been a day where I've been tired of this (and that says something).  I walk in and I feel happy.  It has truly been a DREAM room!  Not only do I love the colors, but the organization has made my life so much easier.  I am so proud of my classroom and I know my students love it too.
I hope that I was able to inspire you in some way OR help make your classroom everything you have dreamed of!  This collection can actually be more than what it appears… it can be about celebrating your students, or about celebrating learning and school, or even a reminder to celebrate each and every day.  It can be a strictly FUN theme OR it could have a deeper meaning for you.  However you interpret this collection, I hope it brings you much joy!  Happy Decorating! ~Melanie
The beautiful classroom pictures are from E'lisa Campbell from E.C. Campbell Photography in Clarkston, Michigan
Confetti Crush – Schoolgirl Style
Just Teach RAINBOW PACK – Schoolgirl Style
Many coordinating items can be found at Oriental Trading:
Links coming soon!
Bulletin Board Paper – Pacon
Borders – Creative Teaching Press
Awnings – Teacher Created Resources
Orange and blue rugs, gold "&", yellow teacher table, alphabet pillow  – Wayfair
Pillows – Wayfair and Zazzle
Stuffed Animals – Amazon (Jellycat Brand)
Teacher Chair and Office Chair, colored wooden chairs, bus picture – Land of Nod
White shelves, benches, green couch Coffee Cart (painted white)- Ikea (painted white)
Binders, notebooks, folders, pink "hello" pillow, accessories on white hutch, gold scallop jars, gold scissors and stapler, white Keurig – Target
Glitter Frame, pink flowers with gold vase – Joss and Main
Glitter Jar – Etsy
Door Wreath – Etsy
Gift Bags, Ribbon – Hallmark Store (Cary Ann Hallmark in Flushing, MI)
Striped Tumbler – Kate Spade
white desk accessories – (See Jane Work brand) Office Depot
Gold dot file folders, stationary – Michaels
Paint palette above on top of white hutch – Pottery Barn (painted to match my room colors)
Gold dot poster board – Hobby Lobby
Ted Baker Teacher Bag – Nordstrom
---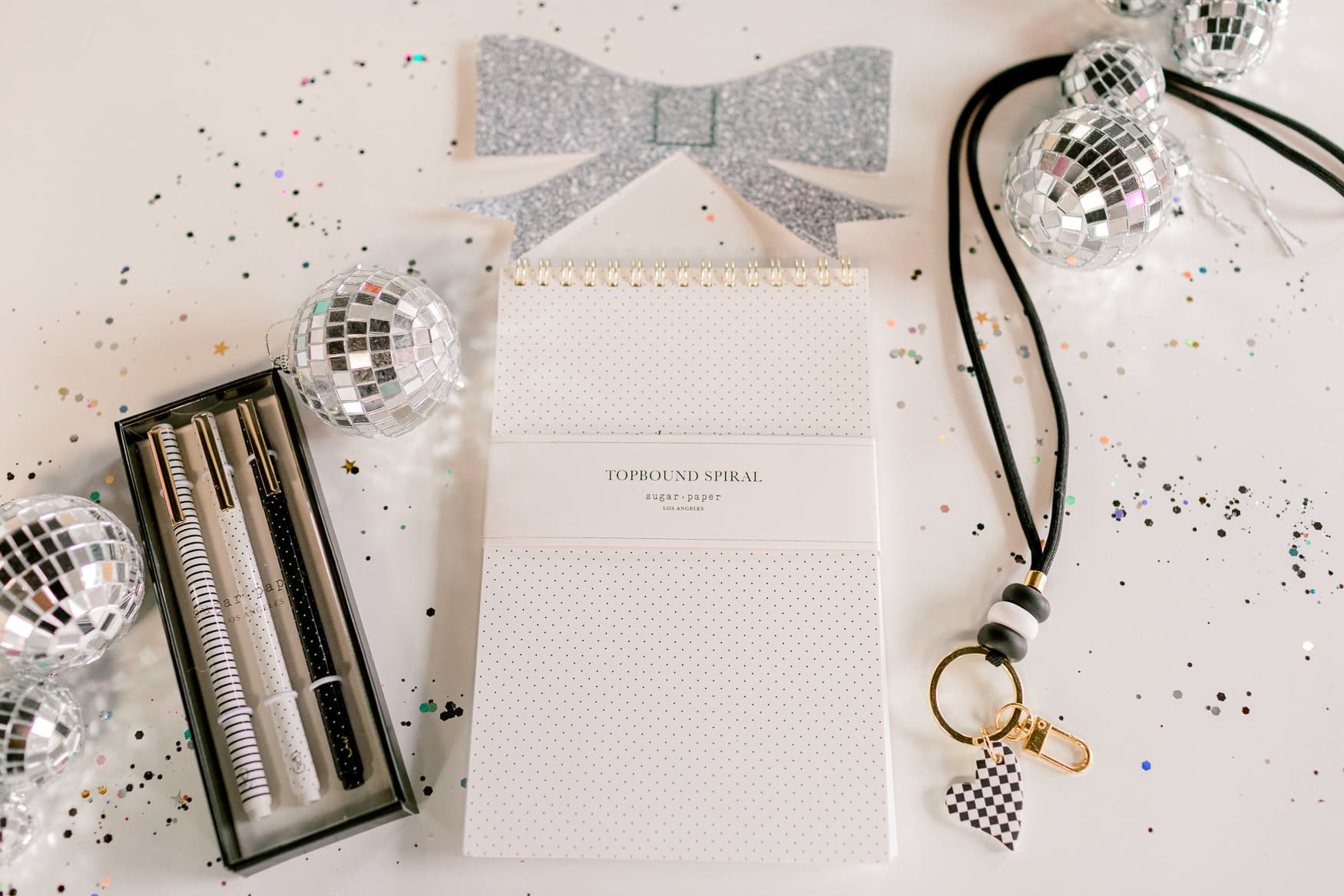 The ultimate Teacher gift giving guide!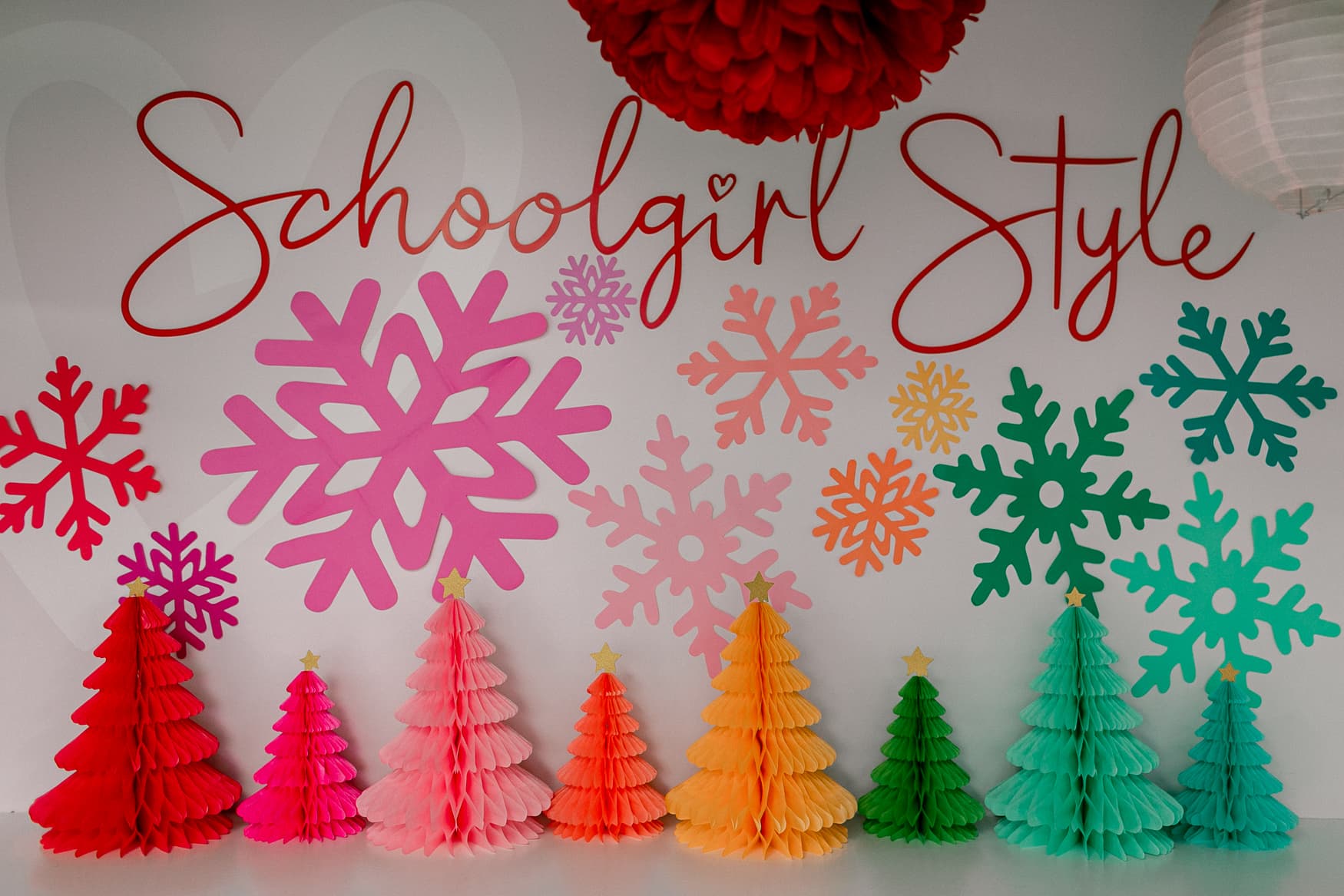 Holiday Pop-Up Shop for Teachers!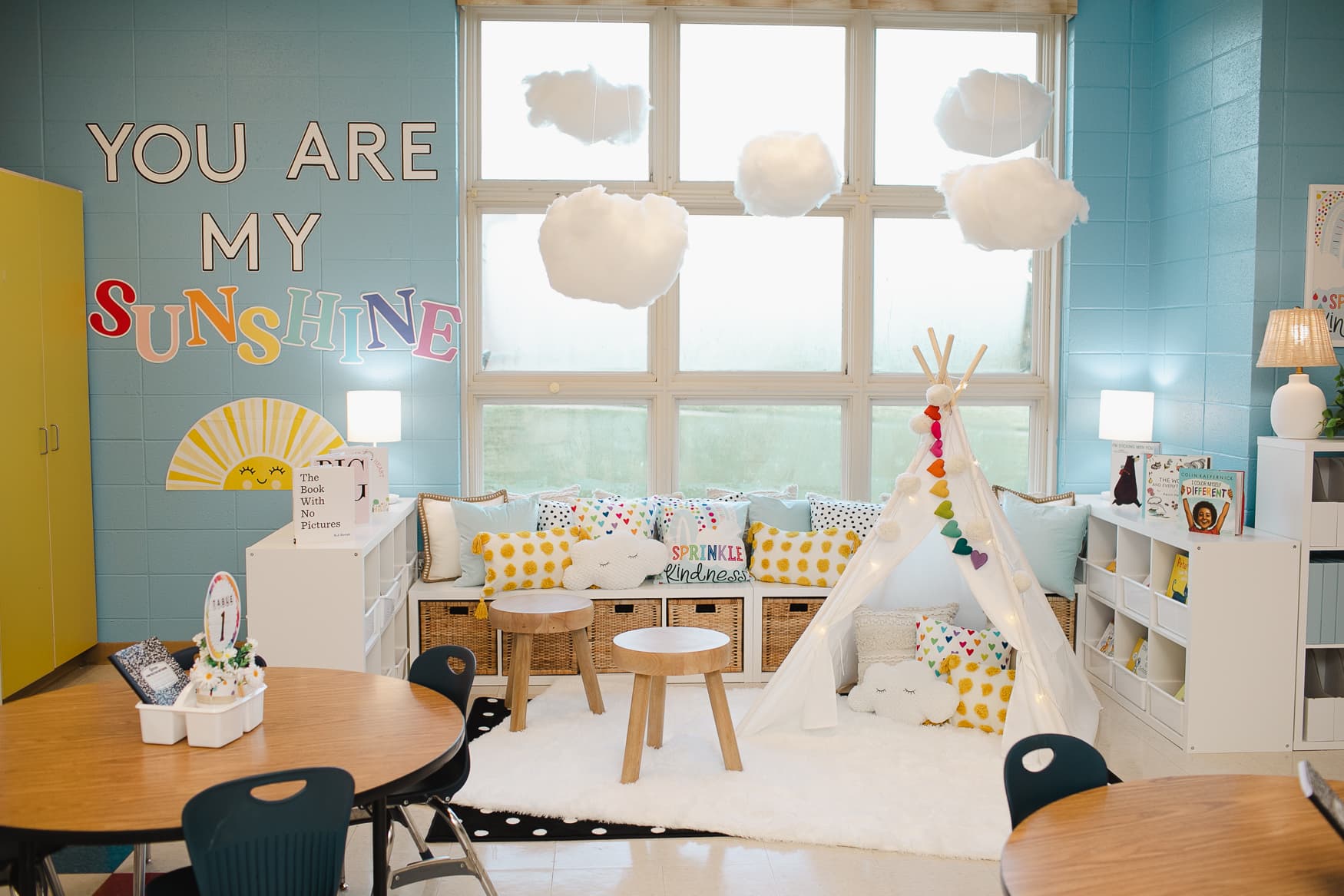 How do I decorate my classroom?
Creative Bulletin Board Ideas
Fall inspired Classroom Resources for Teachers.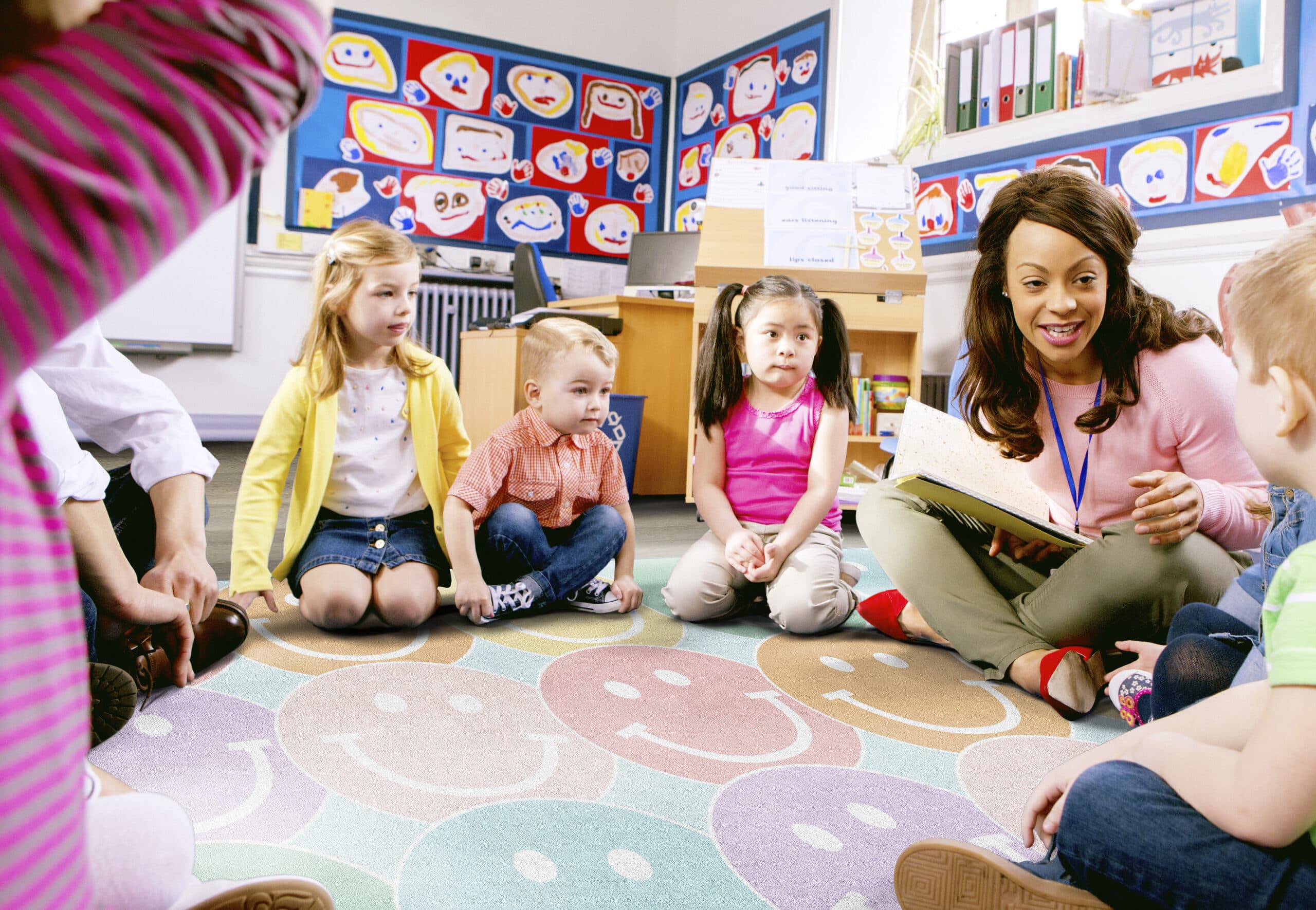 Classroom Rugs | 10 reasons to bring one into your learning space.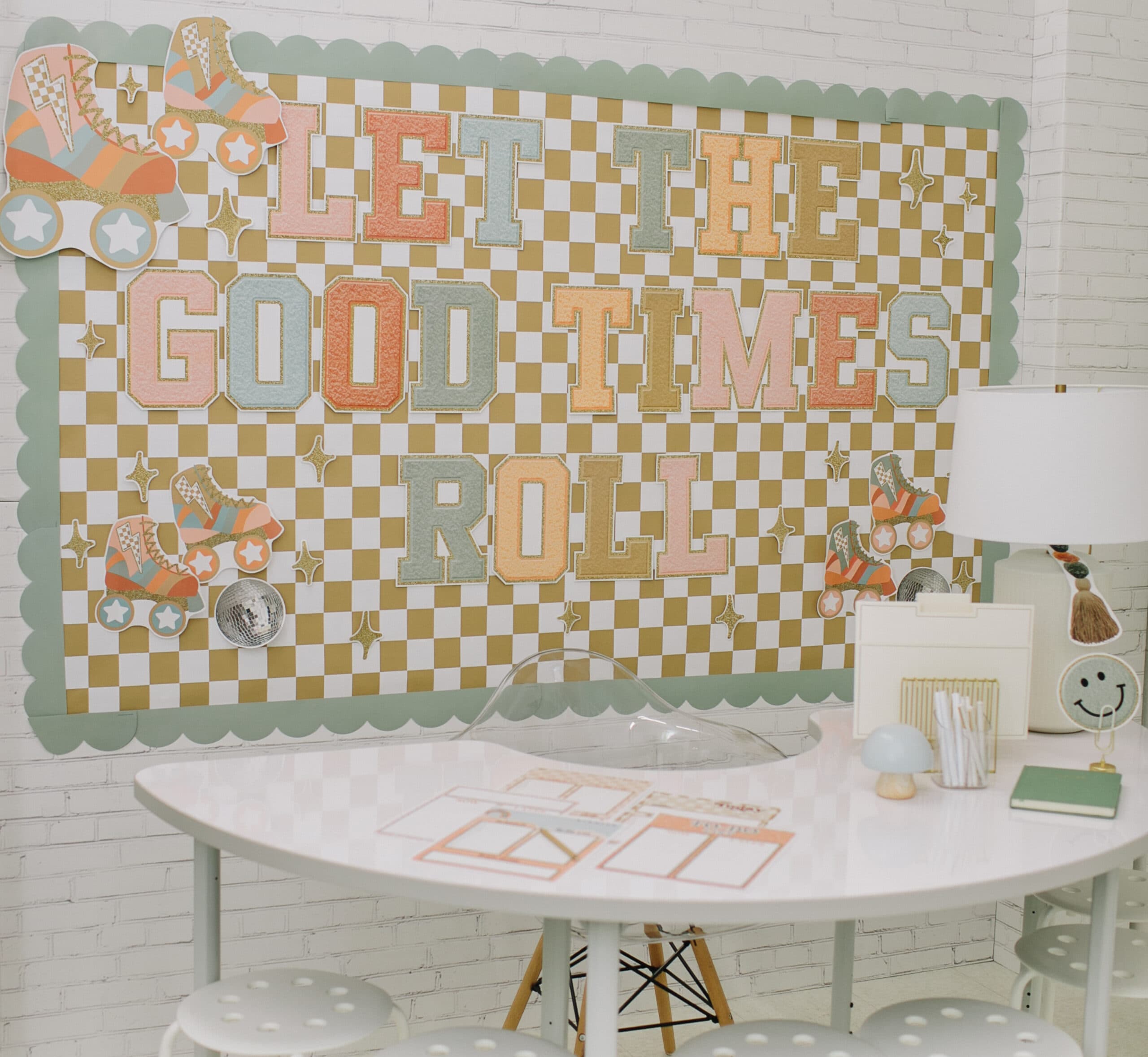 Three Beautiful Retro Classroom Decor Themes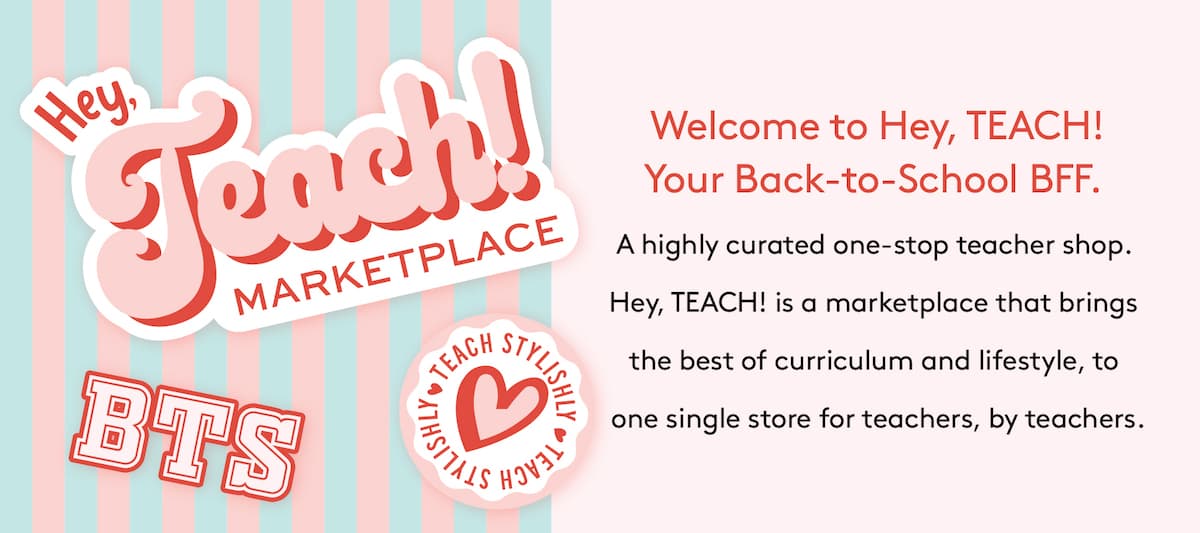 The Back to School Checklist for Teachers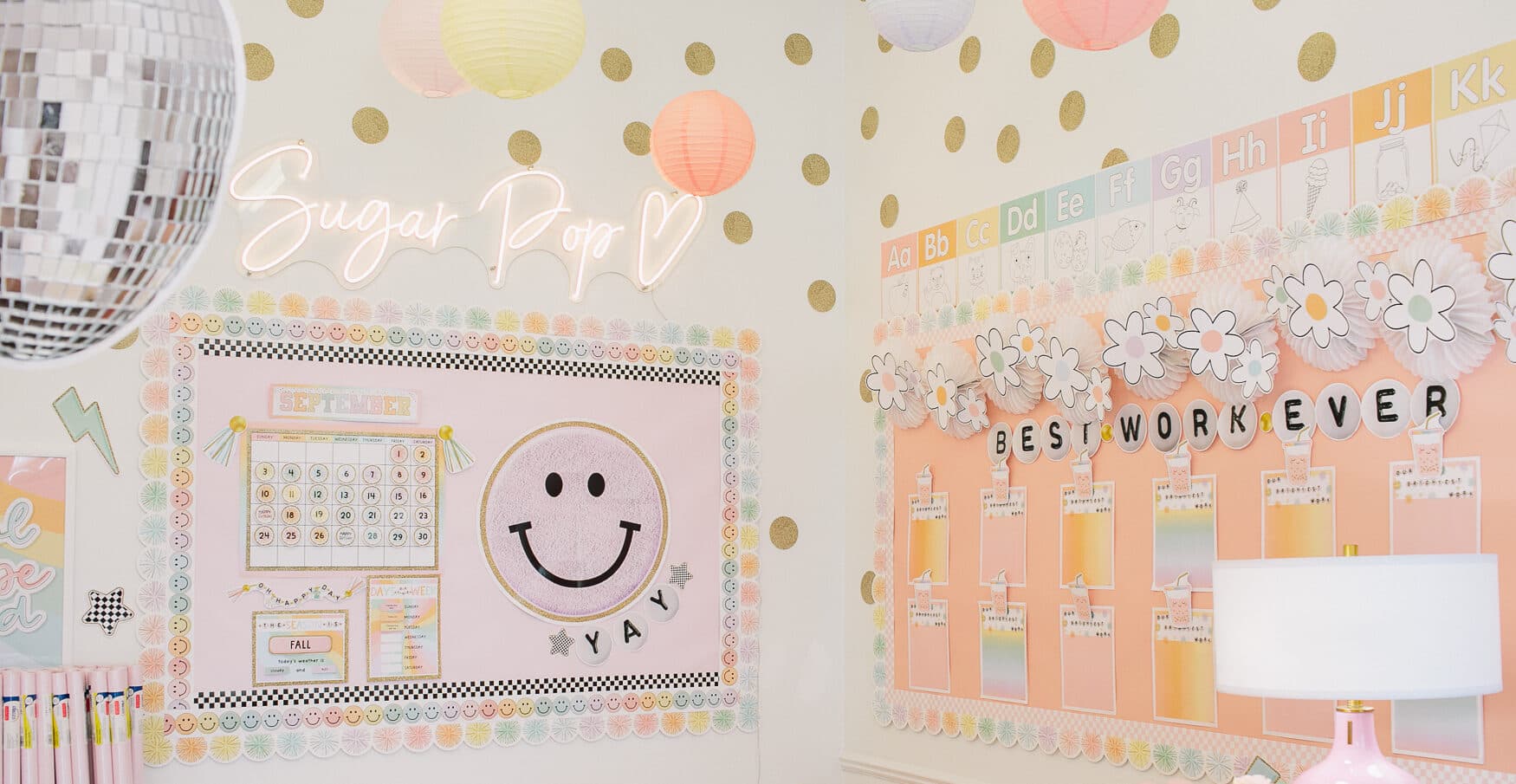 Sugar Pop | Rainbow Pastel Classroom Decor
Send me the latest on Schoolgirl Style!