Wed Nov 28 2012
Classroom Couture–Sunny Skies
I can't tell you how many Classroom Couture packages I started to create and then abandoned.  There were a ton!  I am committed to creating décor that I feel represents my mission of providing beautiful, quality, and stylish products for teachers.  If I wouldn't use it in my own classroom, I would never sell it […]
I can't tell you how many Classroom Couture packages I started to create and then abandoned.  There were a ton!  I am committed to creating décor that I feel represents my mission of providing beautiful, quality, and stylish products for teachers.  If I wouldn't use it in my own classroom, I would never sell it to you. 
  I instantly fell in love with my Sunny Skies Collection and knew from the beginning that this would be THE collection that I would keep.  I would use this Couture package in my OWN classroom without a doubt.  I had several people that saw this theme before the pictures and they ALL fell in LOVE!  I knew from their reactions, that this was special.
I am sure you will agree.
BEAUTIFUL.
The soothing blues, grays, and yellows creates a calming atmosphere that both the teacher and the students are sure to LOVE!  The patterns are a little different than my typical collections.  This particular collection has a hazy, vintage appeal that I am particularly drawn to.
I pay close attention to the hot color trends of the year and GRAY is it!  I also carry gray poms in the Schoolgirl Style Shop, so I've made it really easy to create a dreamy and stylish classroom where everything coordinates!  No guessing.  I've done all of the designing for you.
My new Classroom Couture collections are all EDITABLE, so you can customize the labels any way you would like.  You can even choose your own font and color!
A Classroom Couture package includes:
-An entire alphabet available in cursive and ABC manuscript fonts.
–  10×3 nameplates in 8 designs
–  Book basket labels in 8 designs
–  WELCOME banner
–  Calendar headers
–  Calendar numbers
–  Multipurpose labels in coordinating patterns
–  Word Wall Labels
–  Editable binder covers
–  Coordinating "Keep Calm and Teach On" print
–  Table signs
–  Pennant banner
*Poms and Daisies are sold separately in the Schoolgirl Style Shop
I hope you love it as much as I do!
Sunny Skies Collection Shopping Guide:
Gray, Yellow, Turquoise, and Robins Egg Blue Poms:  Schoolgirl Style Shop
Turquoise, White, and Yellow Daisies:  Schoolgirl Style Shop
Turquoise Picture Frame:  Schoolgirl Style Shop
Table/Chairs:  Pottery Barn Kids
White Binders:  Staples
White Wicker Baskets:  Target
White/Gray Plastic Baskets:  Dollar General
Wire Baskets:  Meijer
Bulletin Board Paper and Border: Pacon Fadeless Paper in Teal and Bordette in yellow/white. Purchased from Amazon.com
Photos courtesy of E.C. Campbell Photography in Rochester Hills, MI
---
Creative Bulletin Board Ideas
Fall inspired Classroom Resources for Teachers.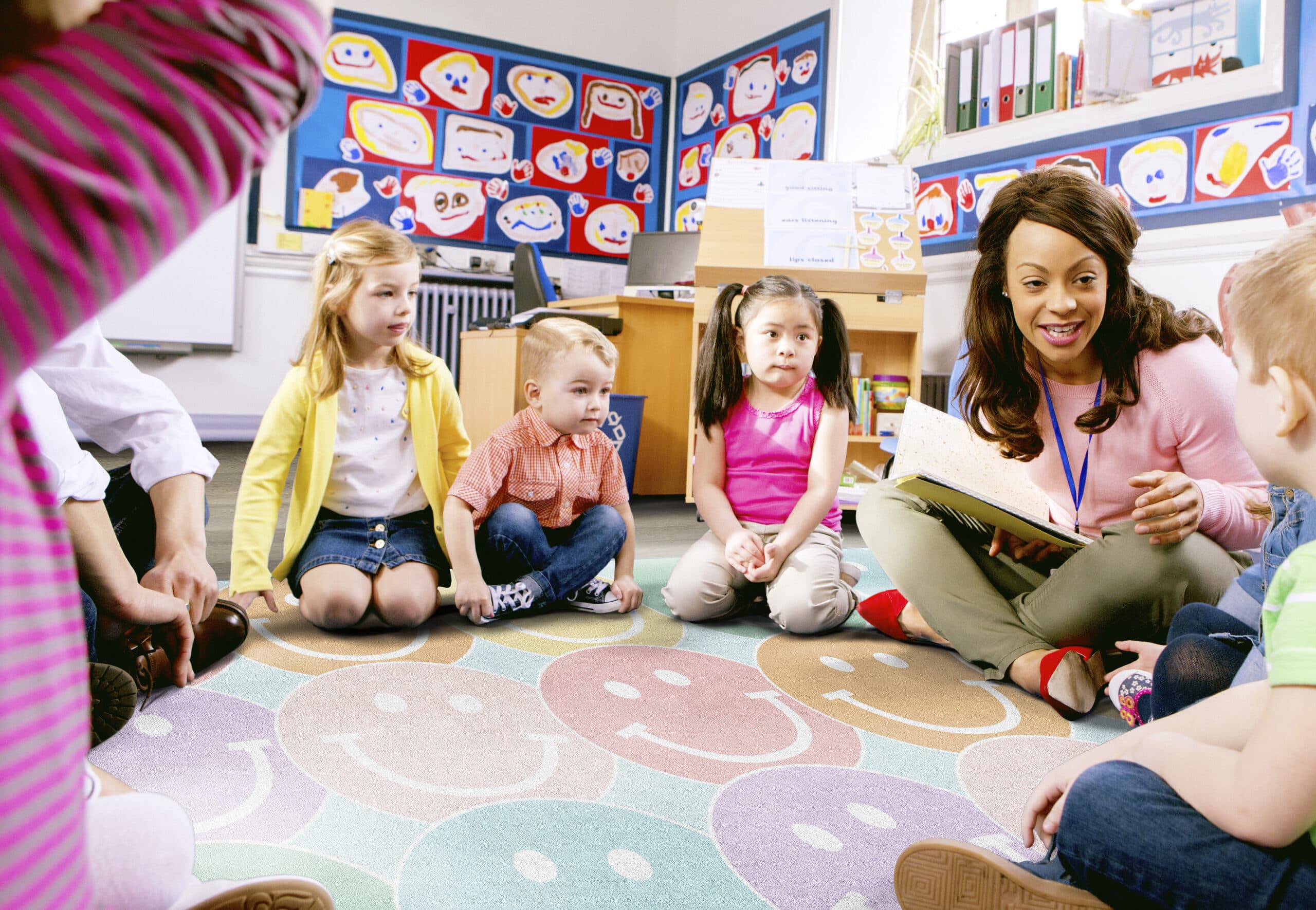 Classroom Rugs | 10 reasons to bring one into your learning space.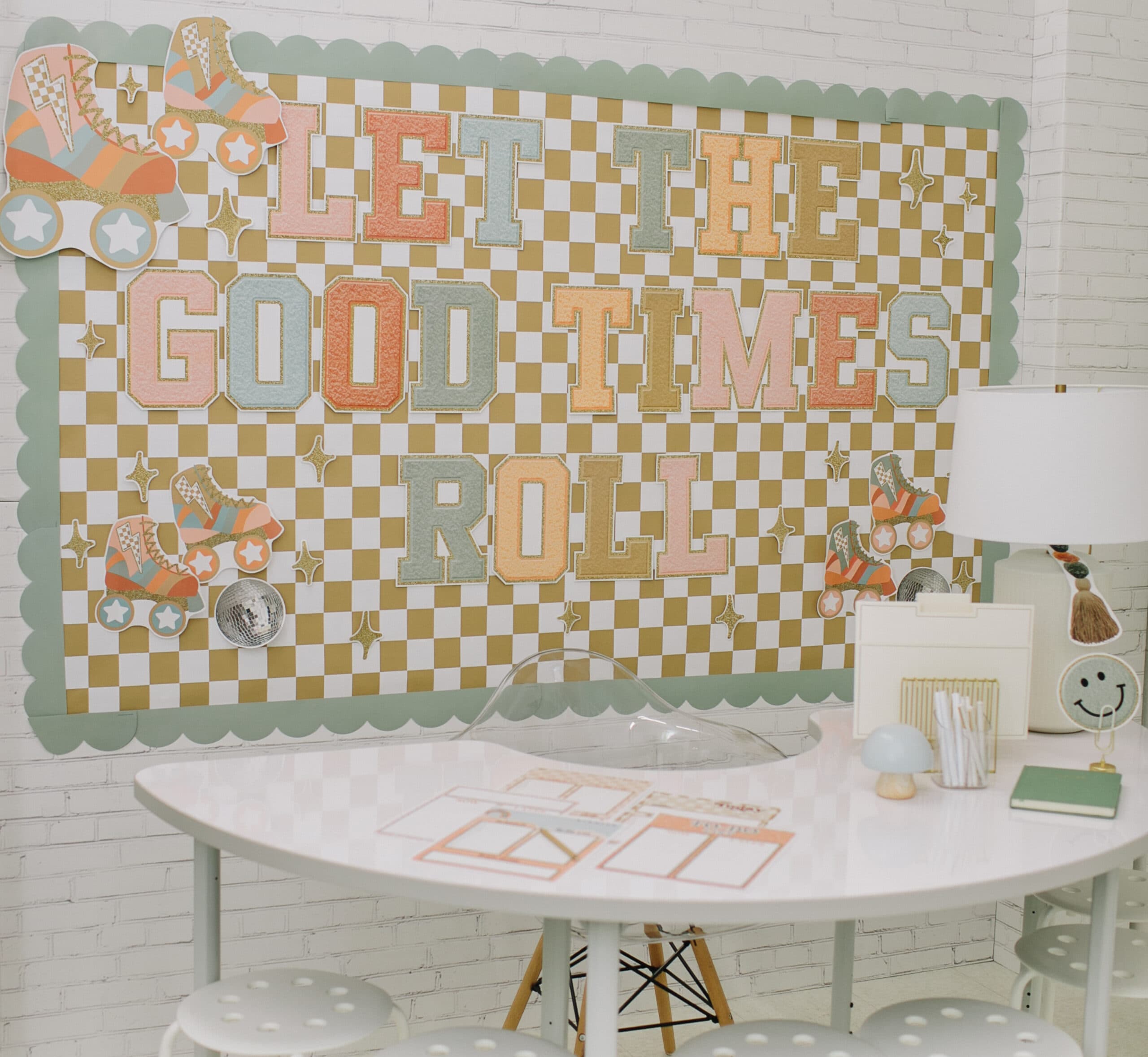 Three Beautiful Retro Classroom Decor Themes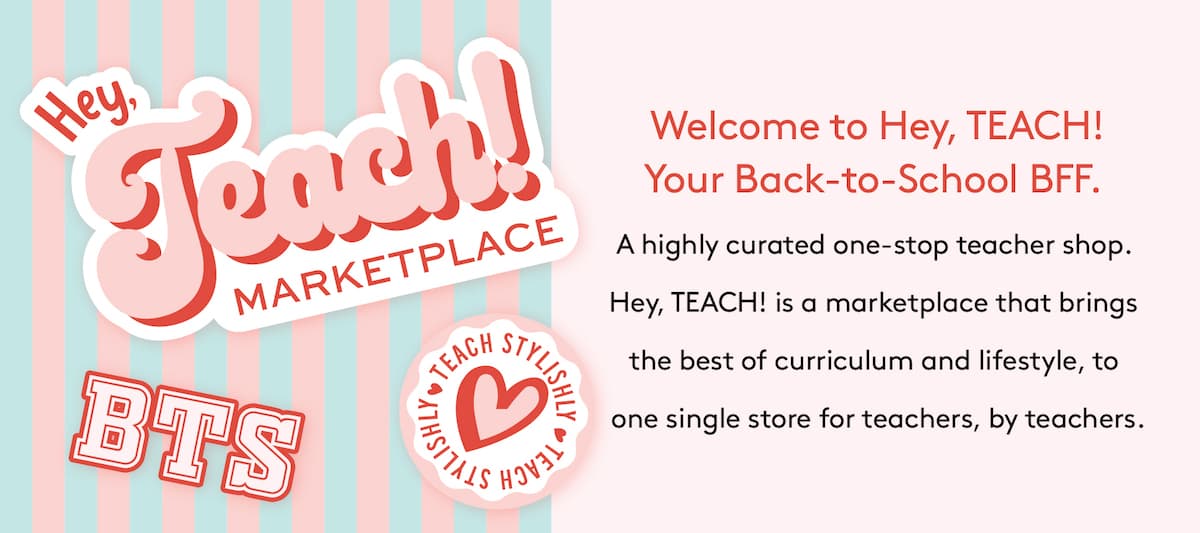 The Back to School Checklist for Teachers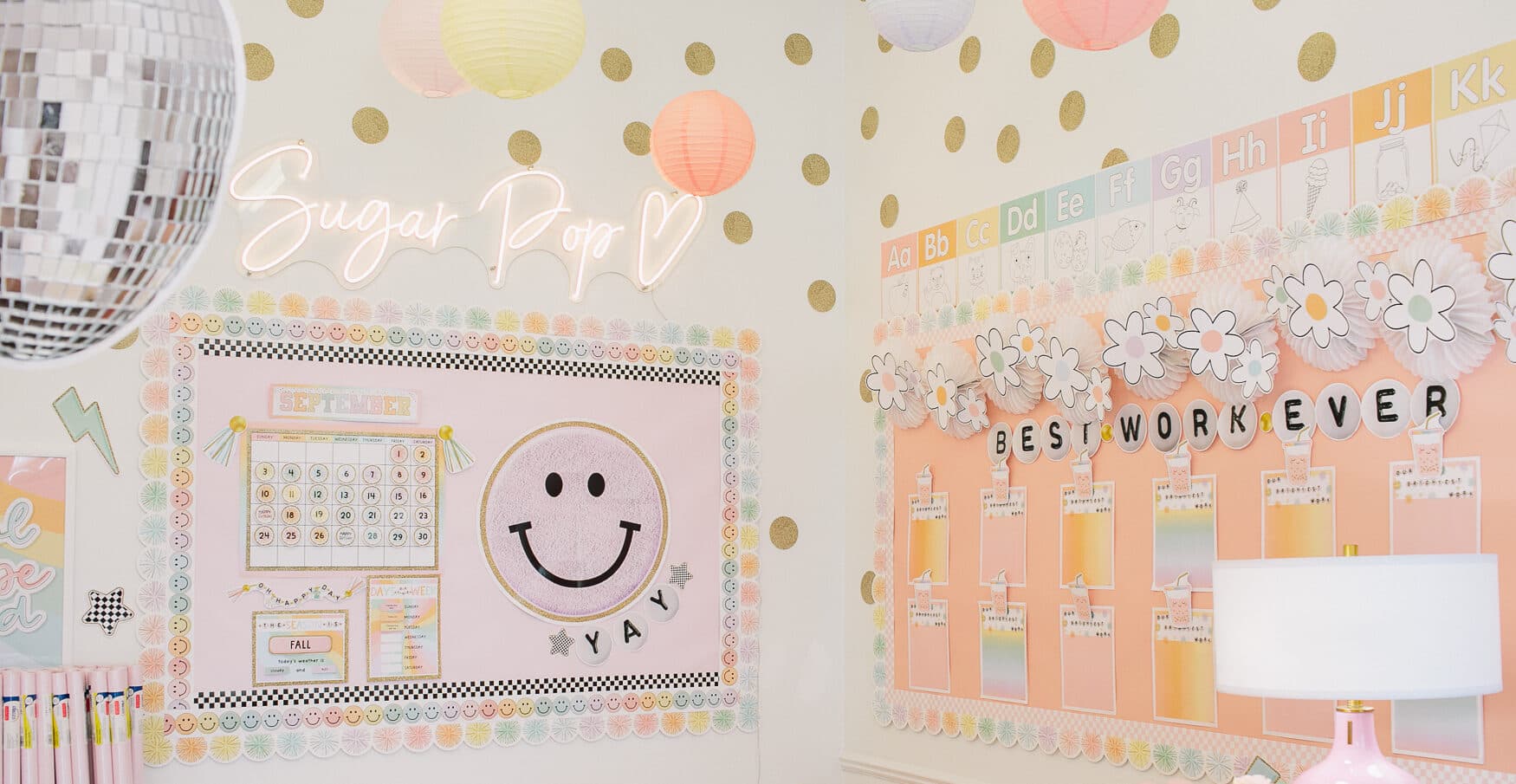 Sugar Pop | Rainbow Pastel Classroom Decor
Midnight Meadow | Wildflower Classroom Decor Theme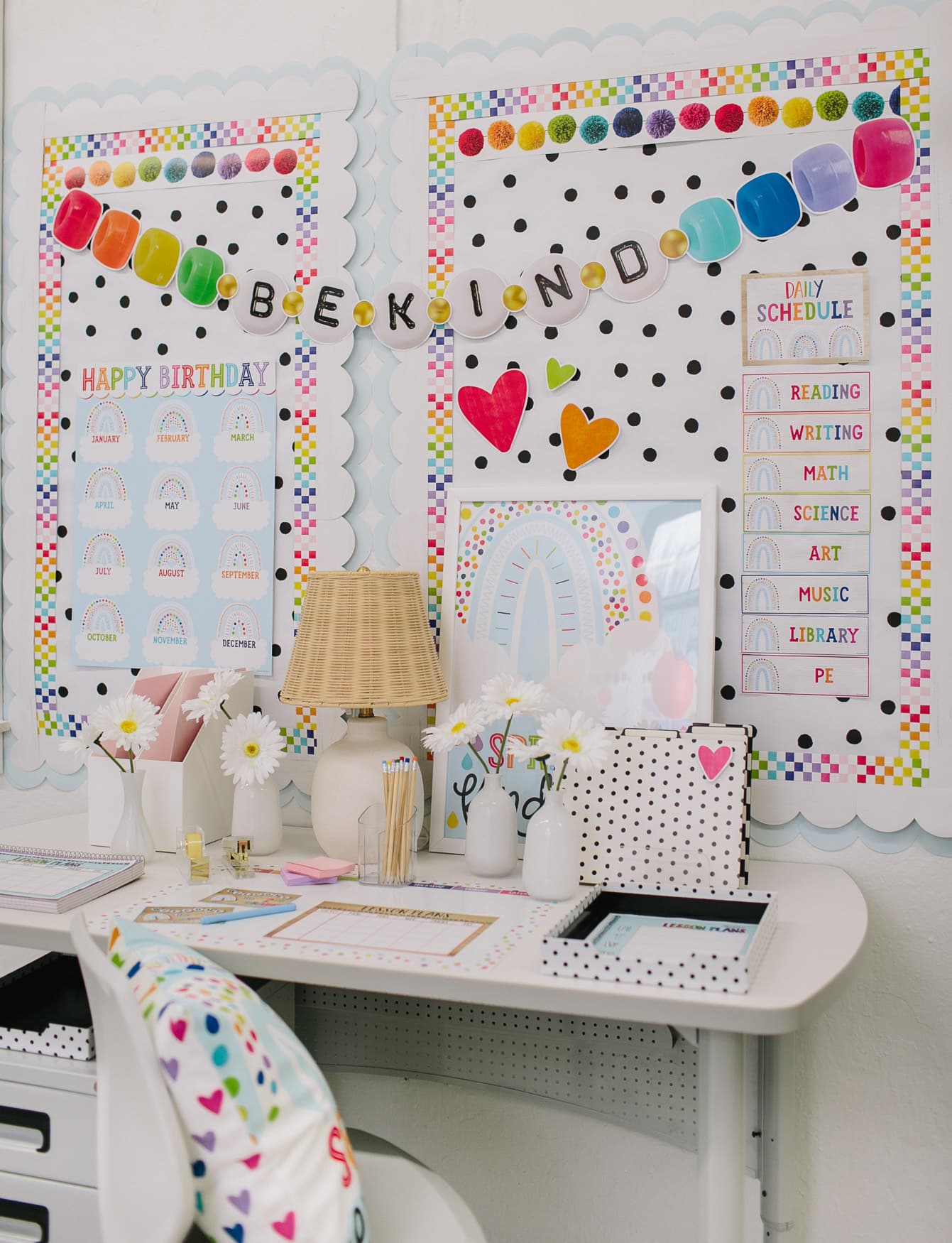 Sprinkle Kindness | Rainbow Classroom Decor
Retro Classroom Decor Inspiration
Send me the latest on Schoolgirl Style!