Tue Jun 11 2013
By the Sea
Creating an ocean or beach classroom theme has been my most requested room since the beginning of Schoolgirl Style!  I held off on creating this theme because I felt like it's been done a million times already.  I knew that if I was going to commit to this particular theme, it had to be special.  […]
Creating an ocean or beach classroom theme has been my most requested room since the beginning of Schoolgirl Style!  I held off on creating this theme because I felt like it's been done a million times already.  I knew that if I was going to commit to this particular theme, it had to be special.  It had to be something that hasn't ever been done before.  I am so SO proud of this room.  This décor has exceeded my own expectations.   
I've been dreaming about ocean and beach classroom décor for a long time.  I knew that my "beachy" colors should include soothing blues and greens, but incorporating a pop of vibrant red and orange would give it that "fun" feel that belongs in a classroom full of children!
The Schoolgirl Style ocean and beach classroom décor has the largest selection of patterns than any other theme that I've created.  The ideas kept flowing and I just couldn't stop!  The same is true with my super adorable ocean/beach cut-outs!  To top it all off, I added sharks and mermaids to this fabulous classroom décor package.  After polling a group of children, I found out that the kids are CRAZY about sharks and mermaids!
Patterns were created with my favorite combinations…chevron, polka dots, and stripes.  I even included a fish scale pattern in a cute scalloped design to coordinate perfectly with your ocean theme!
All of my tags, labels, and banners were created with JUST the cute pattern (no clip art) in case you wanted to use the collection as a Classroom Couture theme.
Check out these amazing patterns in the gorgeous "By the Sea" colors…
21 patterns included and they all coordinate perfectly with one another!
I told you this was the largest collection that I've created!
Are you ready to see the gorgeous photos?!?  I hope you love it as much as I do!
Enjoy!
Introducing…"By the Sea" by Schoolgirl Style
Crabs were created with a cute chevron belly AND a blank editable belly to customize with your student names!
Nameplates and multipurpose labels are editable as well!
*MAC computers are not compatible with the editable version of our tags and labels.  A personal computer is needed to customize our editable products!
A custom pencil holder could not be any cuter!  Beach ball cut-outs are the perfect accent for bulletin boards and table signs!
No worries about writing on nameplates or labels.  Our editable products let you choose your own font and colors!
*We used "Lobster" font on all of our labels, tags, and banners!
I used the super popular chevron border from Creative Teaching Press in turquoise.  CTP's lime green, orange, and poppy red coordinate with this theme too!
Chevron baskets are from Michaels.
Adding a little glitz was a must with my ocean and beach theme!  I used glitter scrapbook paper from Michaels to make my sparkly ocean water. 
I really wanted to mimic the scallop design that I used on all of our tags and labels by creating a similar scallop design with the water.
Included in our cut-out collection is your very own scallop template for you to use on your own bulletin boards!  Creating pretty waves has never been easier!
I also used the same glitter paper and traced around my cut-outs to give my ocean animals a glitzy appearance! 
I added glitter around the seahorses too!  I'm in love with these adorable starfish.  Print them out and create a custom ocean banner for your classroom!
It's hard to see in the photo, but the large "SEA" word on the bulletin board was sprayed with glitter paint to make it sparkle.  You can never have too much glitter!
Alphabet cards are editable as well, just in case you want to use a specific font.  *Decorating Tip…use the existing pennant banner as a template to trace a glittery pennant out of coordinating glitter scrapbook paper.  This will add a little more shimmer to your hanging pennants!
Beach pails are the perfect accessory for your ocean and beach themed classroom!
Schoolgirl Style even carries coordinating turquoise and chartreuse picture frames to coordinate with your ocean themed classroom décor.
A WELCOME banner with glittery paper.  Beautiful.
Editable binder covers with coordinating papers to use for your classroom craft projects are included in our ocean themed package.
Pretty mermaids are sure to be a hit with the girls in your classroom!
"BY THE SEA" SHOPPING GUIDE:
Photos courtesy of E.C. Campbell Photography – Rochester Hills, MI
Tags, labels, banners, striped poms, turquoise pictures frames, banners, binder covers, cut outs, papers:  Schoolgirl Style Shop
Turquoise chevron border:  Creative Teaching Press
Beach Pails, glitter scrapbook paper , "SEA" letters on bulletin board:  Michaels
Grass skirting, bamboo table runner, orange and turquoise Bordette:  Amazon
green tray on table:  Walmart
White table and chairs:  Pottery Barn Kids
White shelf:  Home Decorator's Collection, Martha Stewart Collection
Colored plastic tubs on white shelf:  Party City
---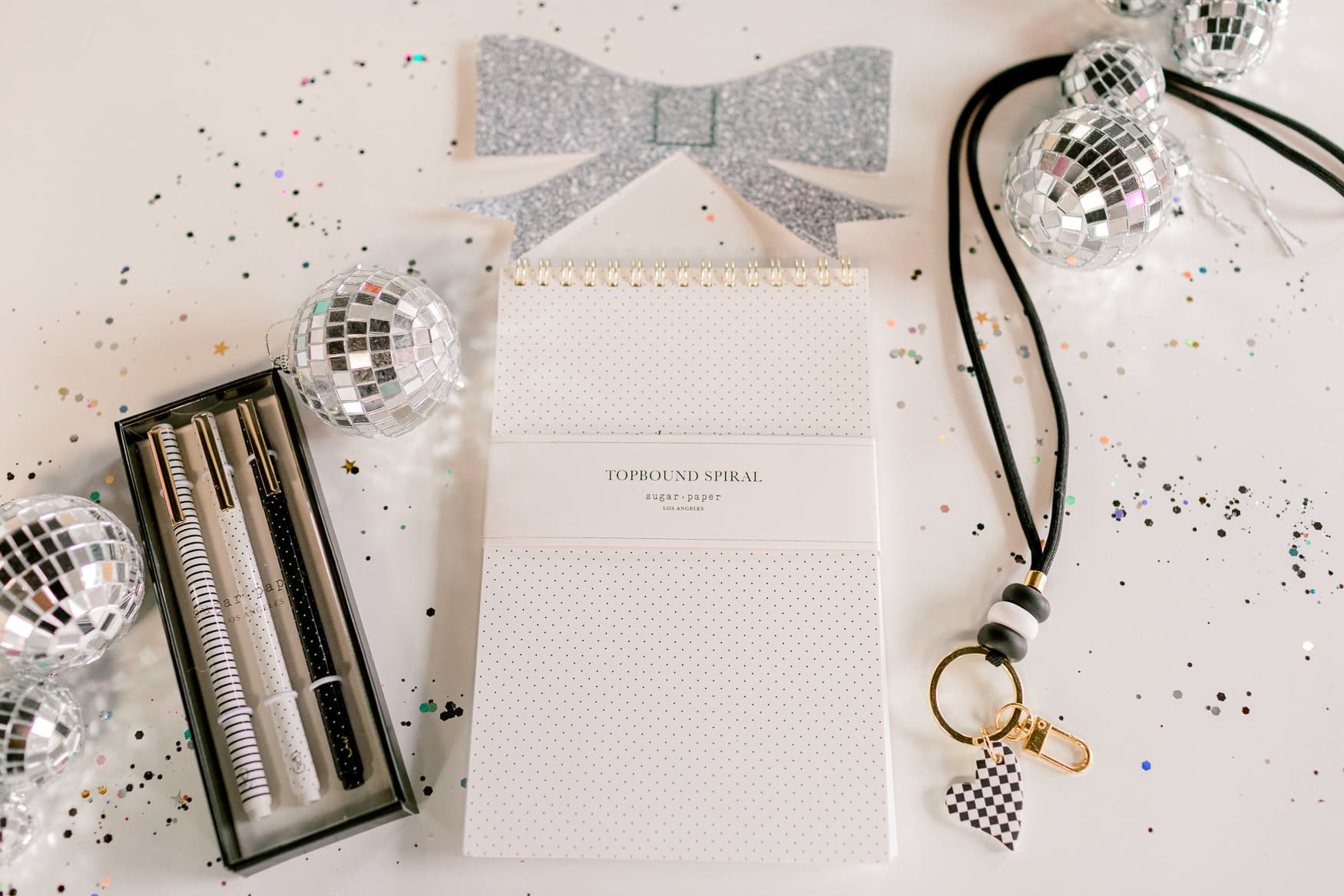 The ultimate Teacher gift giving guide!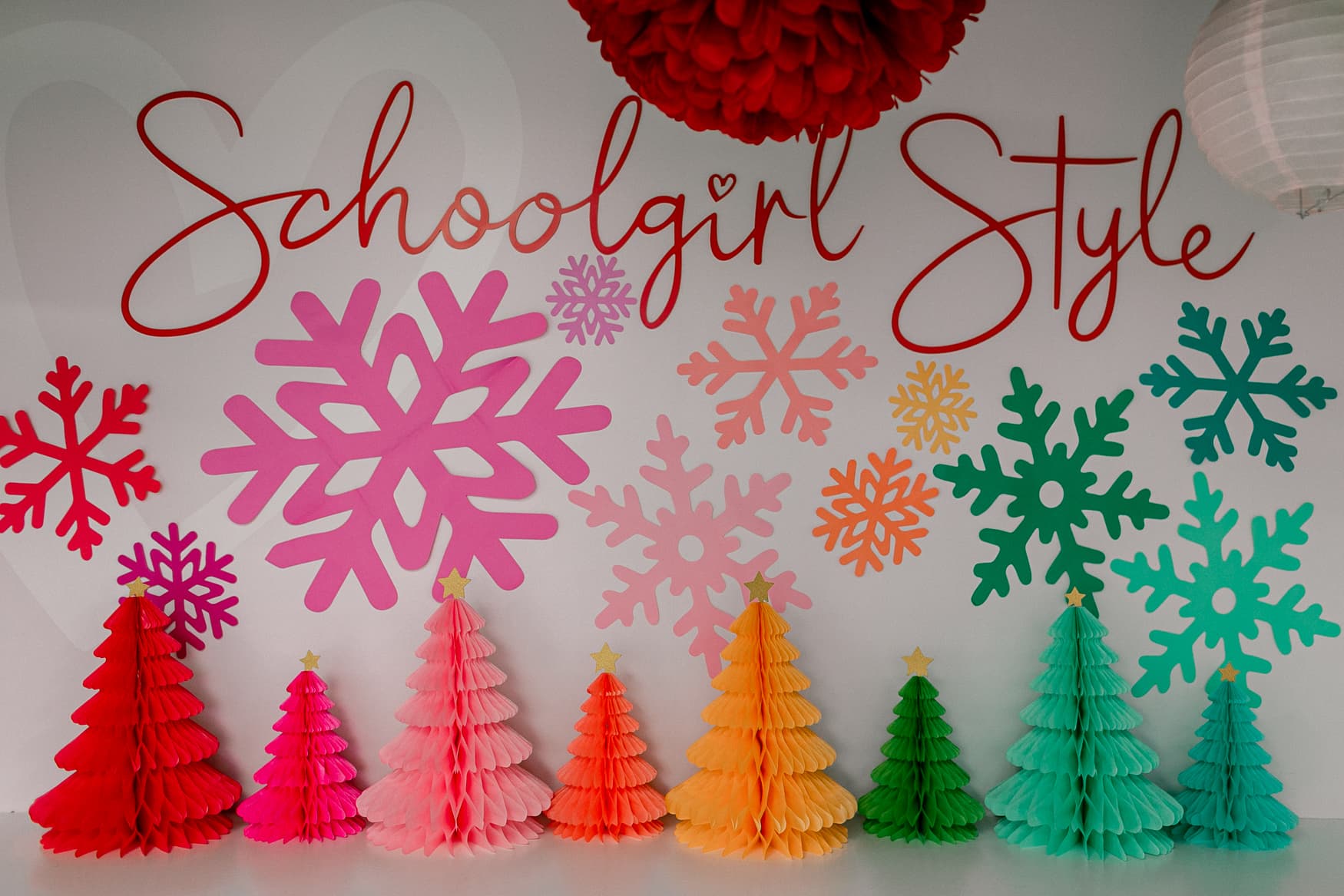 Holiday Pop-Up Shop for Teachers!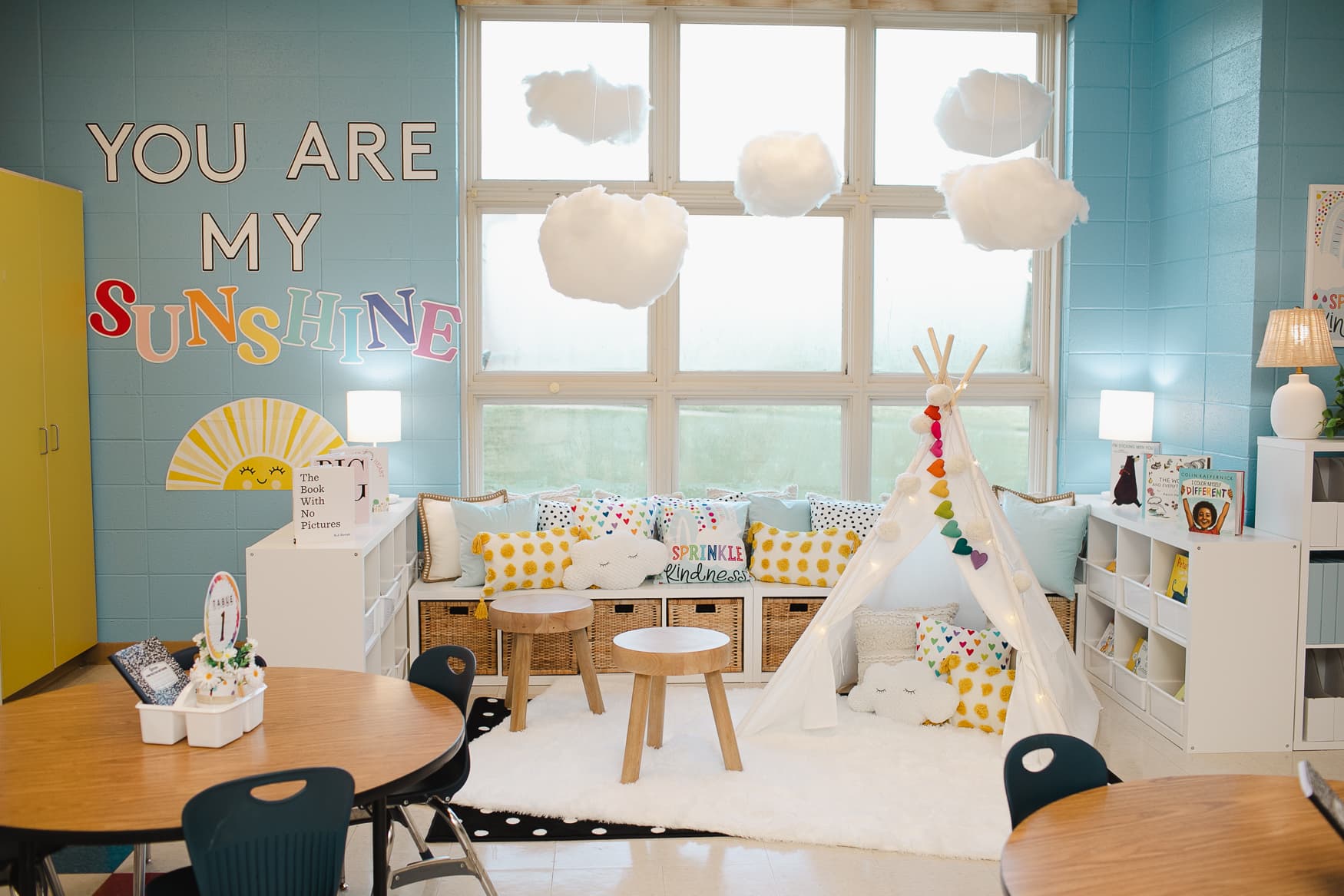 How do I decorate my classroom?
Creative Bulletin Board Ideas
Fall inspired Classroom Resources for Teachers.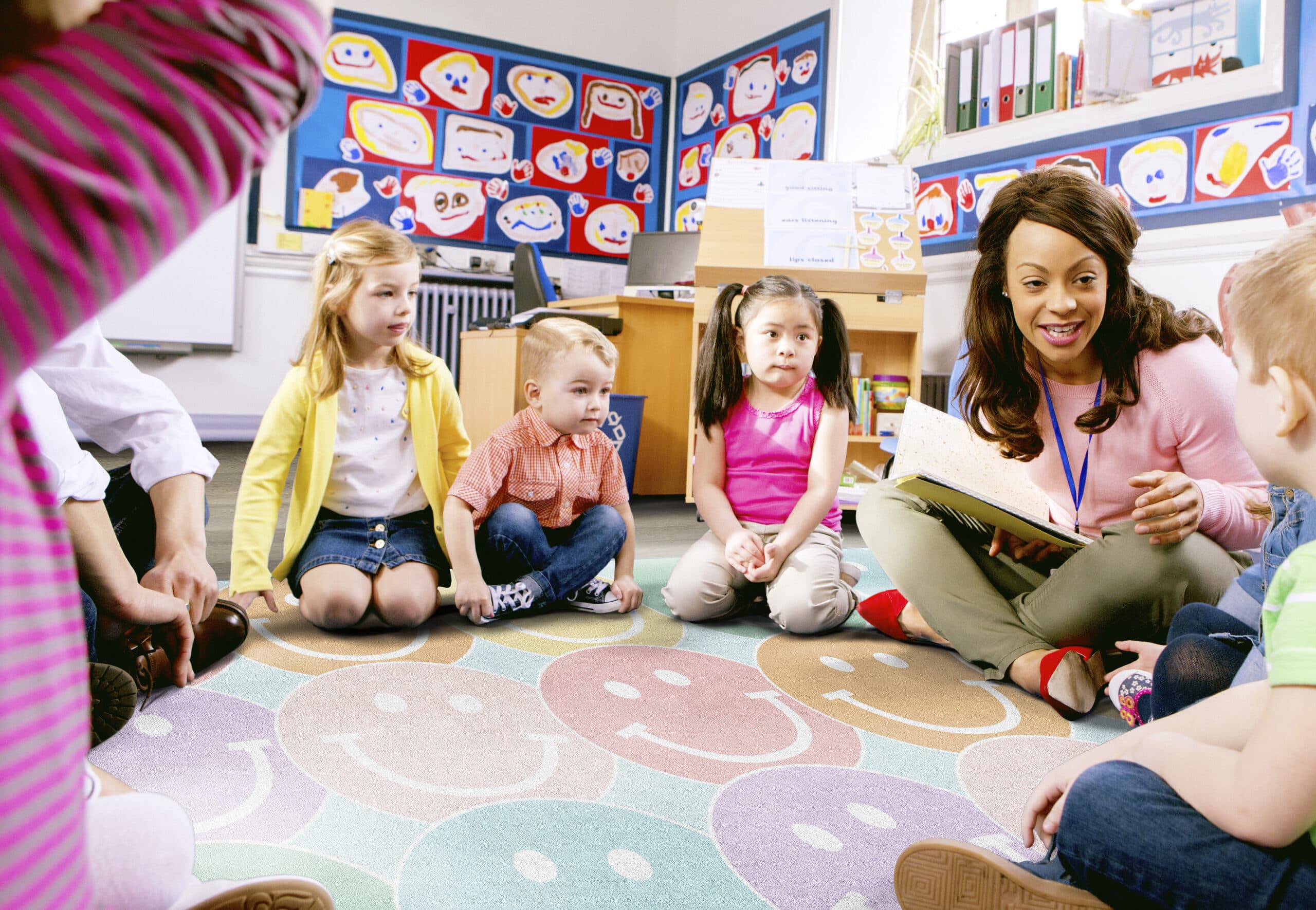 Classroom Rugs | 10 reasons to bring one into your learning space.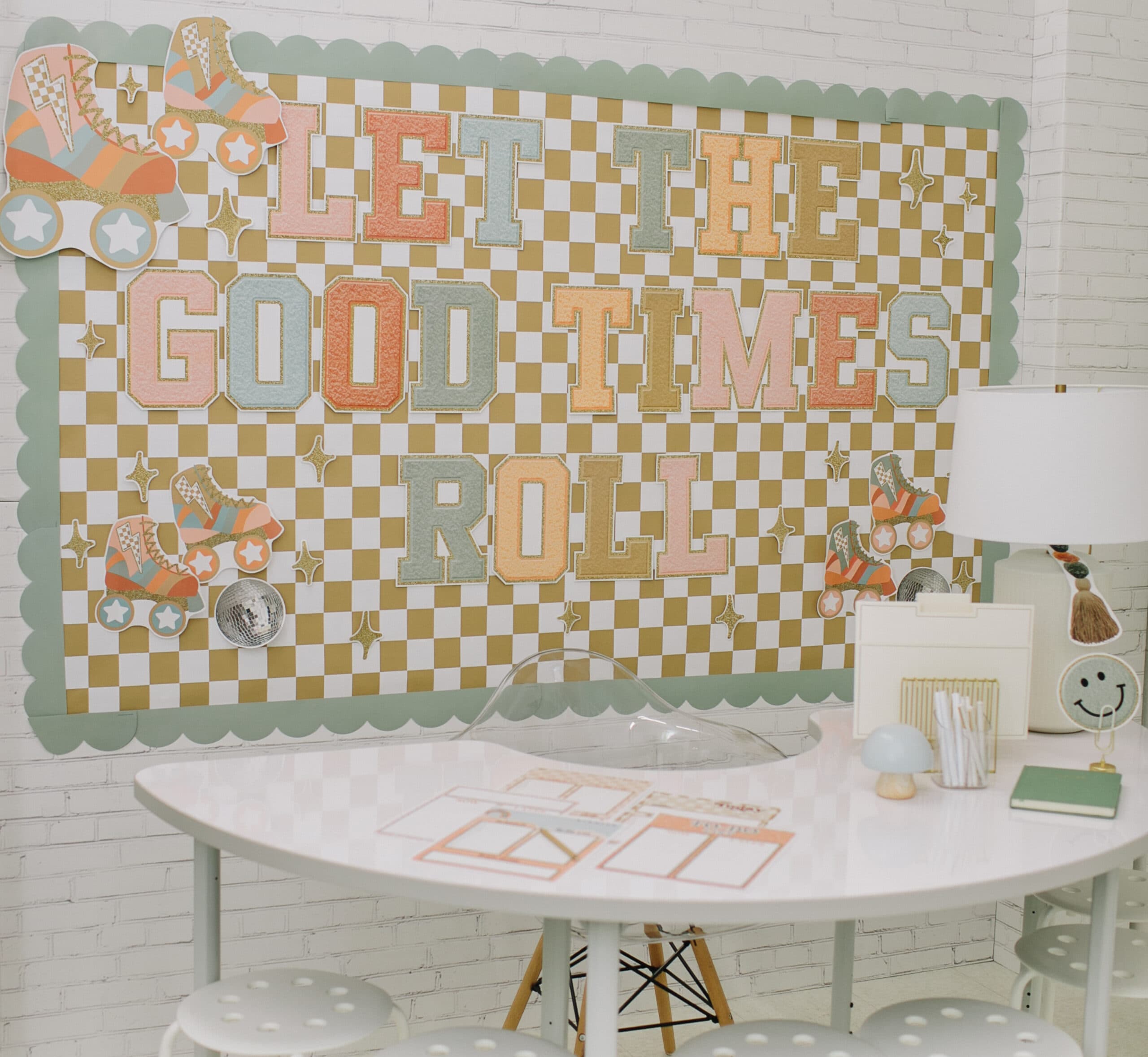 Three Beautiful Retro Classroom Decor Themes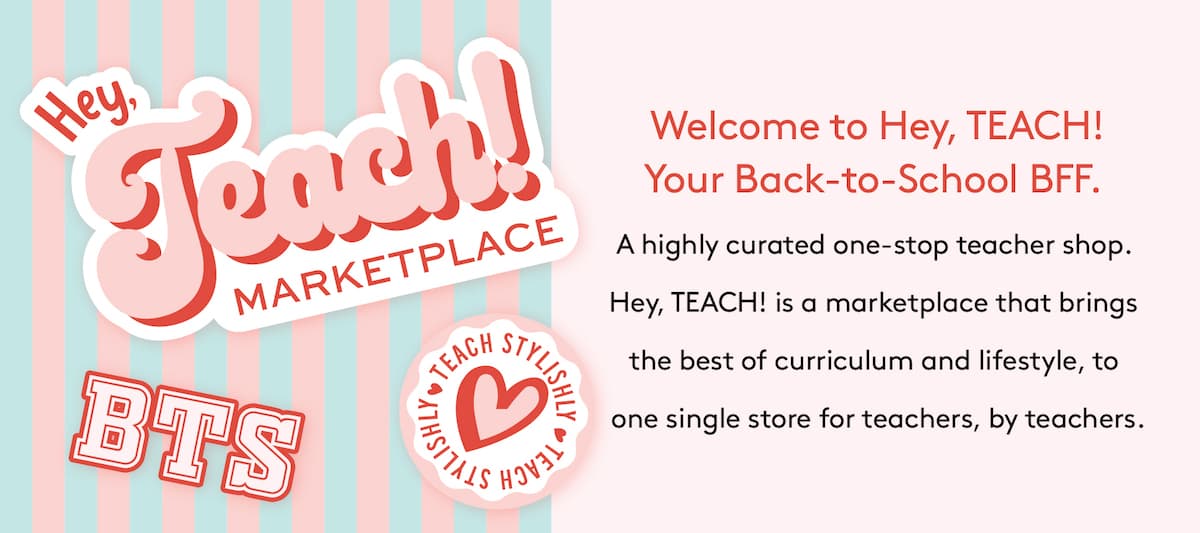 The Back to School Checklist for Teachers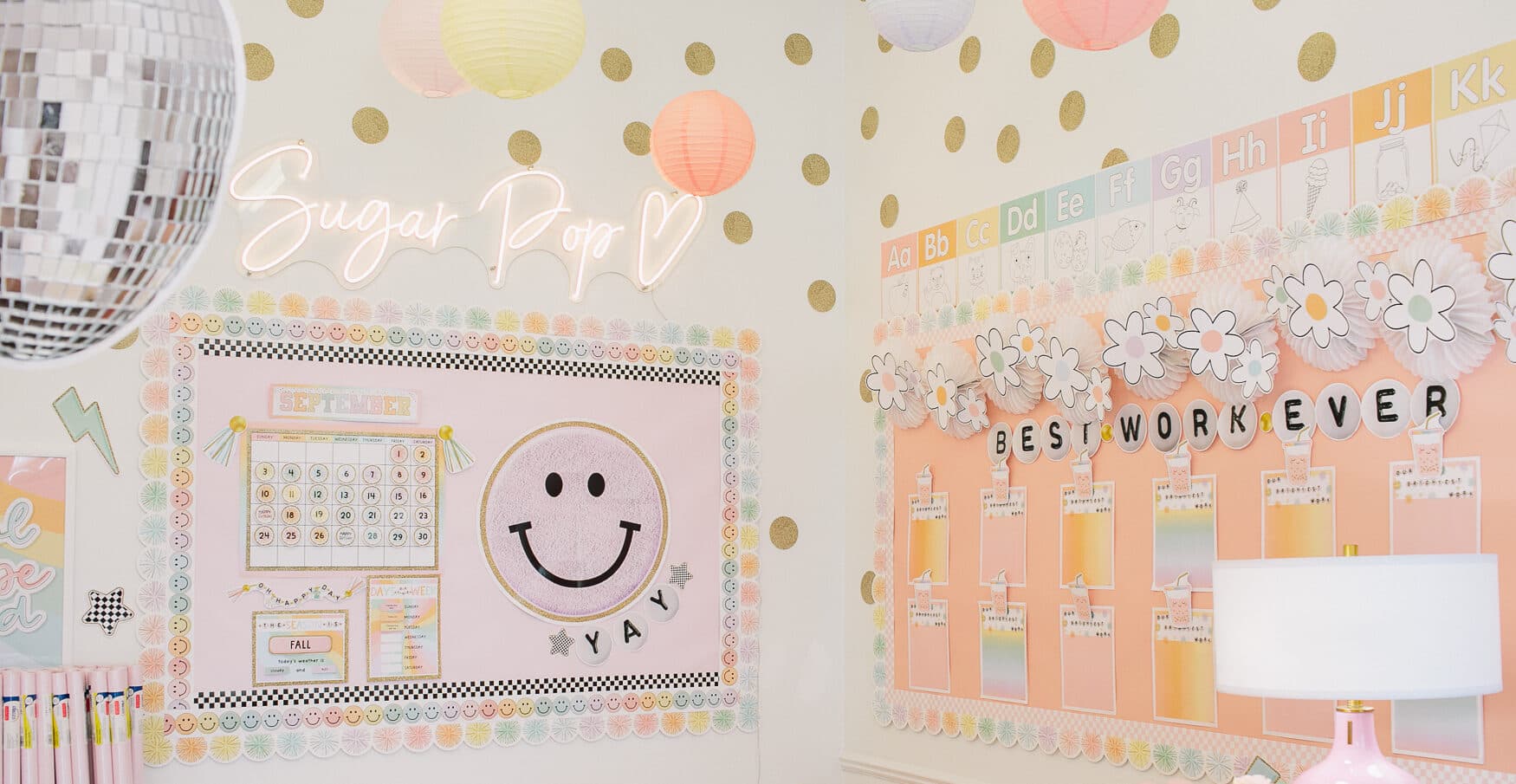 Sugar Pop | Rainbow Pastel Classroom Decor
Send me the latest on Schoolgirl Style!