Sat Mar 06 2021
Boho Rainbow Classroom Theme
Happy Saturday my friends! Time for our THIRD 2021 collection! You guys, this collection is so near and dear to my heart, and I am just so so thrilled to be sharing it with you this week! Make sure you keep reading to the end— I have a surprise for you!! 2020. It was a […]
Happy Saturday my friends! Time for our THIRD 2021 collection! You guys, this collection is so near and dear to my heart, and I am just so so thrilled to be sharing it with you this week! Make sure you keep reading to the end— I have a surprise for you!!
2020. It was a challenge and hardship. On so many fronts. So when I started brainstorming for our 2021 collections, I wanted to bring something to the table that would breathe life, joy and encouragement into our classrooms. My hope is that, as teachers prepare their classrooms for next year, and as students begin to walk into those classrooms, this collection would help to bring a calm and steadiness, and sparks of pure joy. I hope it helps to begin a new chapter for so many, as we open our classroom doors for back-to-school 2021.
Okay, Boho Rainbow, here we go!! The rainbows in this collection — little beauties that give my heart a squeeze. I love the dimension in these rainbows! The dainty polka dots, solids, vertical 'whisps' and darling squiggles add the perfect amount of texture. I incorporated three different rainbow designs as cut-outs, and they are PERFECTION! The rainbows really are the heart beat of this collection, so OF COURSE, I knew we needed a rainbow border. And oh my heart, I am so glad we did!
Everything about the Simply Stylish Boho Rainbow collection rings kindness and light. Even in the neutral tones, it boldly declares that "together is better". This is the whole goal of this collection–to inspire unity and hope. The posters in this collection have the scripts "LISTEN LEARN LOVE", "LET YOUR LIGHT SHINE", "ABOVE ALL ELSE, LOVE EACH OTHER", and "BETTER TOGETHER". This verbiage was chosen with such intentionality. I wanted to reiterate all the truths we as teachers speak over, and to our students.
You will notice that enchanting little lightbulbs are also a component of this collection. I wanted to create a bulletin board set that incapsulated the theme and the  "Keep Shining, the World Needs Your Light" bulletin board set does just that. I wanted it to be a centerpiece, to be an inspiration in classrooms. My hope is that it will be a subtle, yet bold statement within classrooms, standing as a reminder that the world needs who we were created to be. Each student is a unique gift to give the world. And each student has gifts only they can give, they have a purpose–a good purpose, that will make the world a brighter place.
Let's talk coral! I love coral. It's such a stunning color, and it was the exact pop of color I wanted in this collection. It's a showstopper, while still remaining somewhat neutral. I incorporated a white and coral striped border, with thicker stripes. It's beautiful and so perfect for layering. The neutral painted dot border brings in the color pallet of this collection. I LOVE the painted dots for this border because they are oh-so-charming and add such dimension!
I've said it before, and I'll say it again — I LOVE to mix and match across my collections. Simply Boho and Simply Stylish Boho Rainbow are BFF's and so easily compliment one another. Pictured below, I brought in the Simply Boho Fringe Border to layer with the borders of Boho Rainbow. Hello, lovely layered borders! You could also mix 'n match the natural wood border, as well as, the white with gold dots border.
These precious neutral heart cut-outs are included with the rainbow cut-outs. I love that they are simple, yet such cuties! Cut-outs can be used in SO MANY WAYS throughout a classroom…table numbers, labels on book and binder holders, numbering for centers, or decorative pieces. I ADORE how they look at the center of fancy fans, see picture below.
And of course, our Little Black Desk Sets go perfectly with this collection. I promise, these sets are sure to make your teacher desk happy!
I know how hard teachers work and I want to make classroom decorating EASY AS PIE! Schoolgirl Style now sells fancy fans, poms, lanterns, wall polka dots and storage to coordinate with the collections! HOORAY! I hope offering classroom pretties and storage pieces makes it easy for you create your dream space, as you love and teach your sweet students!
Now for the surprise! I tried oh-so-hard to get this mini collection expanded, and more products printed for you, BUT that did not happen this year. HOWEVER, I knew you would love this collection as much as me, so I expanded it with UPRINT pieces! YAY!! All files have been converted to 8.5″x11″ so NO ENLARGING is required. You can EASILY print at home or school, then decorate to your heart's desire!
We added A TON of UPRINT pieces! Alphabet lines, door decor, nameplates, oh my! Sneak peek below! Head on over to the Simply Stylish Boho Rainbow Collection to peruse ALL the stunning pieces added to this collection!
Timeless rainbows, enchanting lightbulbs, darling hearts and inspiring messages written in captivating fonts are the essence of this mini collection. The soft tones of pinks, browns, and creams are sure to bring warmth, comfort and awe within the walls of your classroom or space. I hope you love this collection as much as I do!
XOXO
PS Check out the video below, introducing Simply Stylish Boho Rainbow!
---
Creative Bulletin Board Ideas
Fall inspired Classroom Resources for Teachers.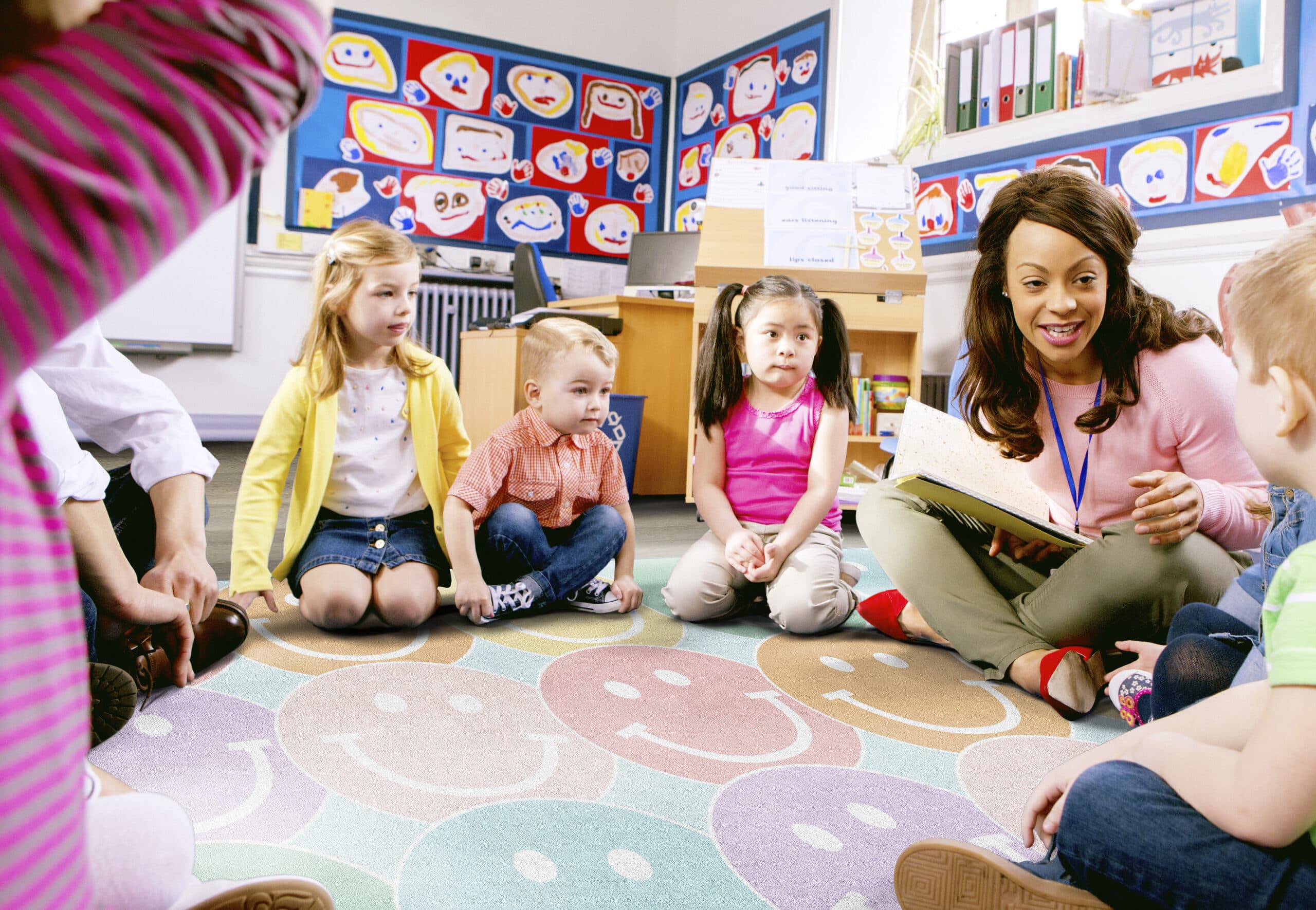 Classroom Rugs | 10 reasons to bring one into your learning space.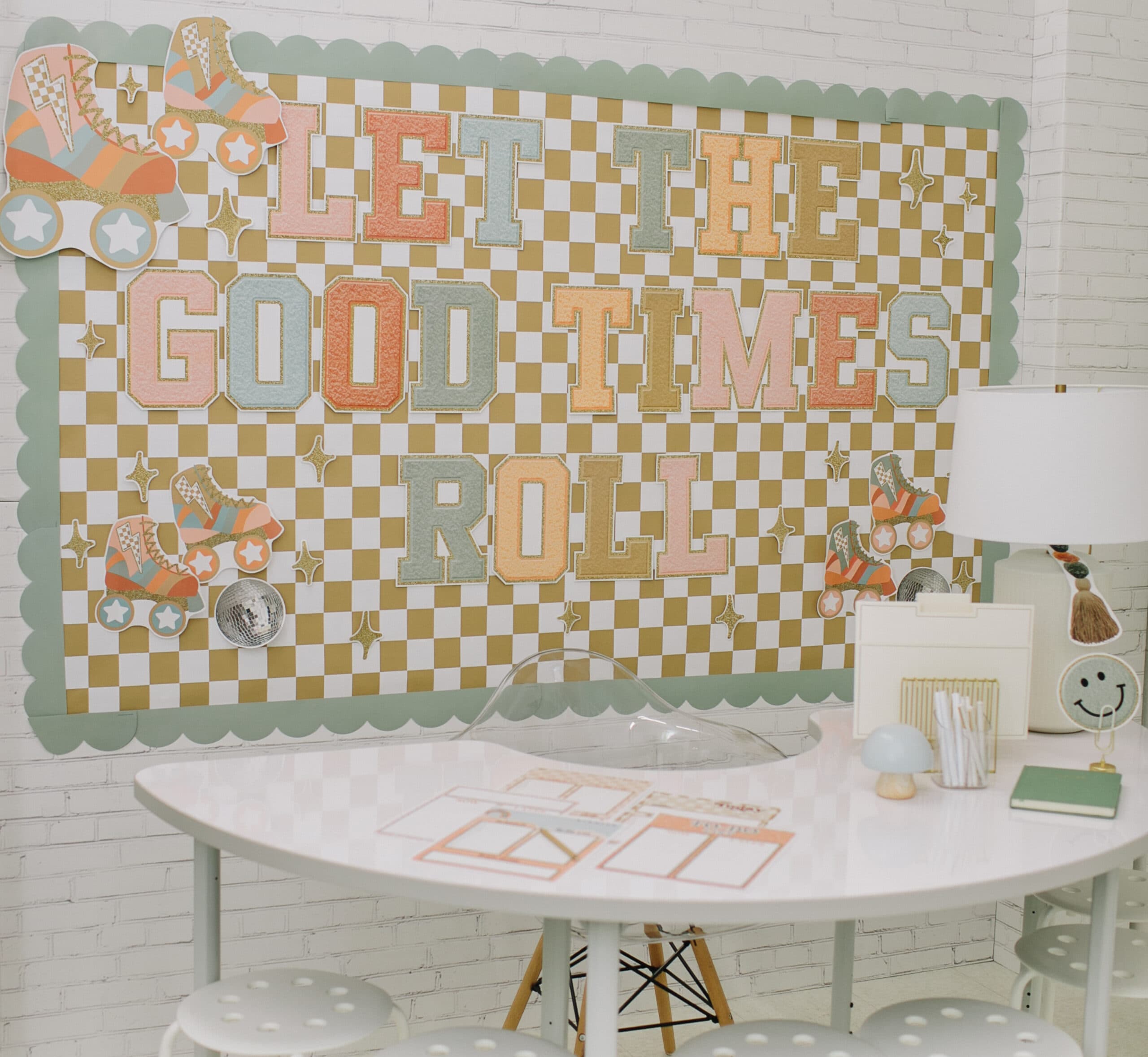 Three Beautiful Retro Classroom Decor Themes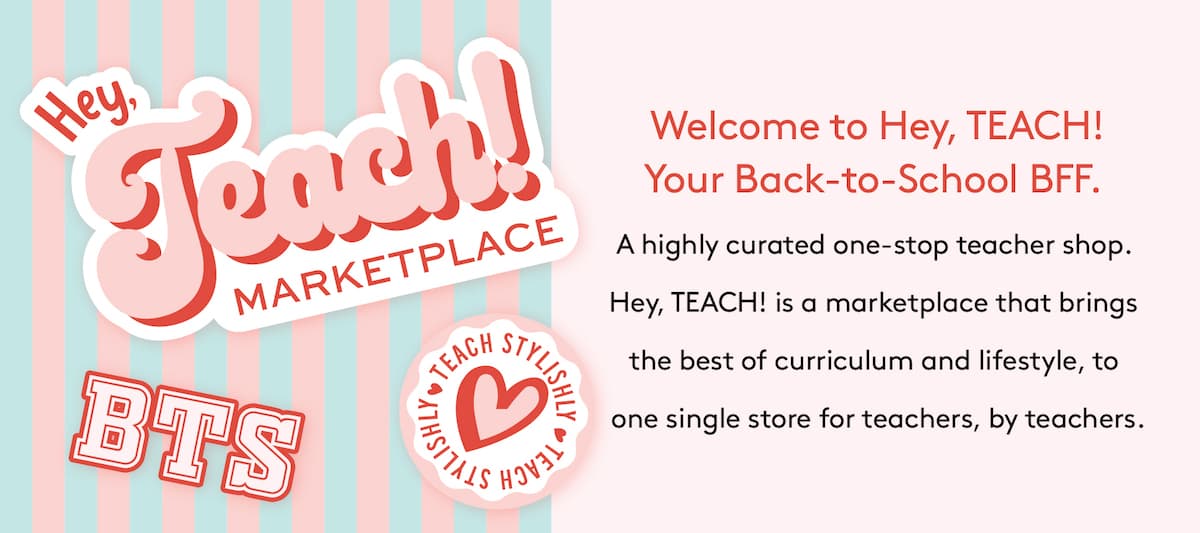 The Back to School Checklist for Teachers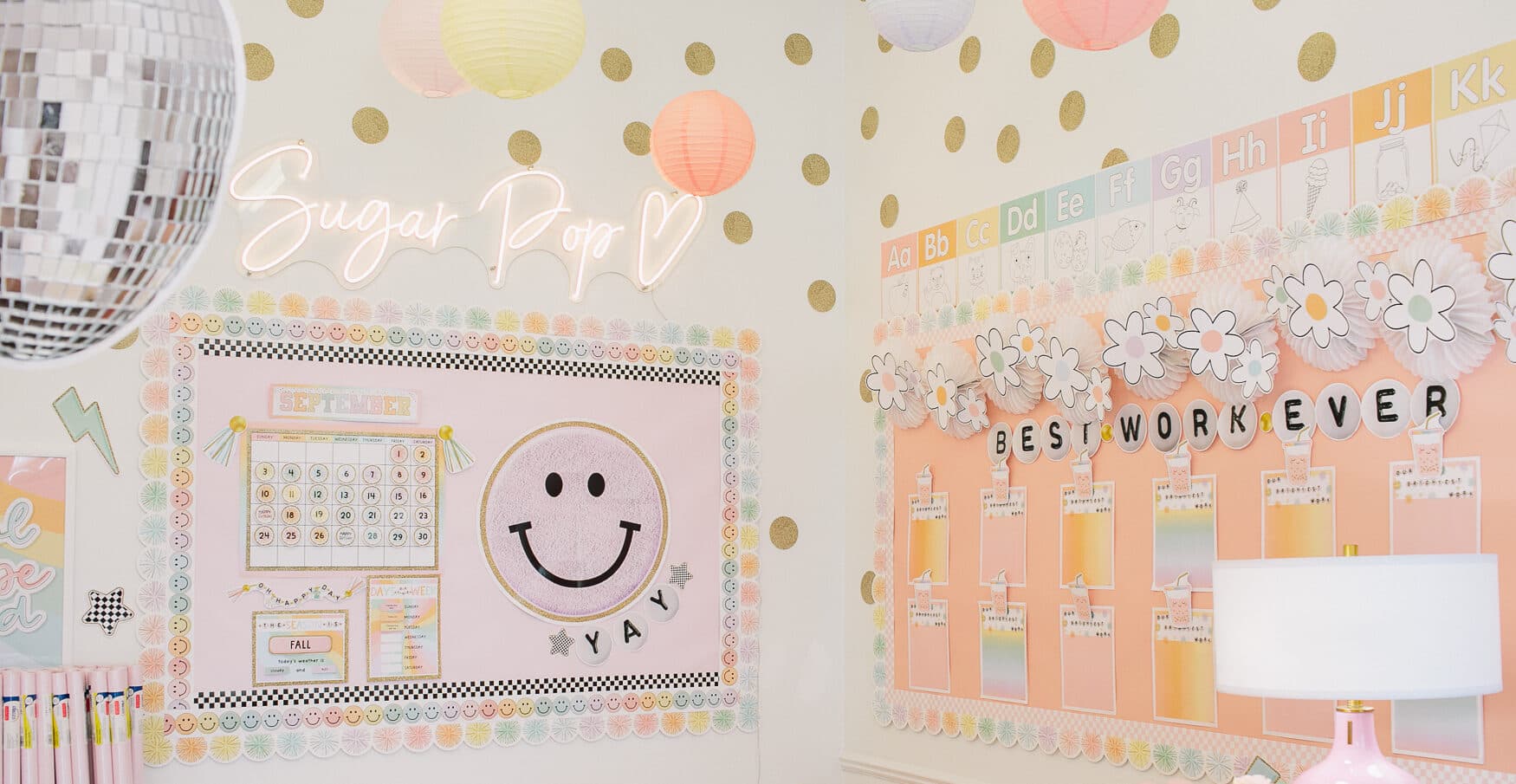 Sugar Pop | Rainbow Pastel Classroom Decor
Midnight Meadow | Wildflower Classroom Decor Theme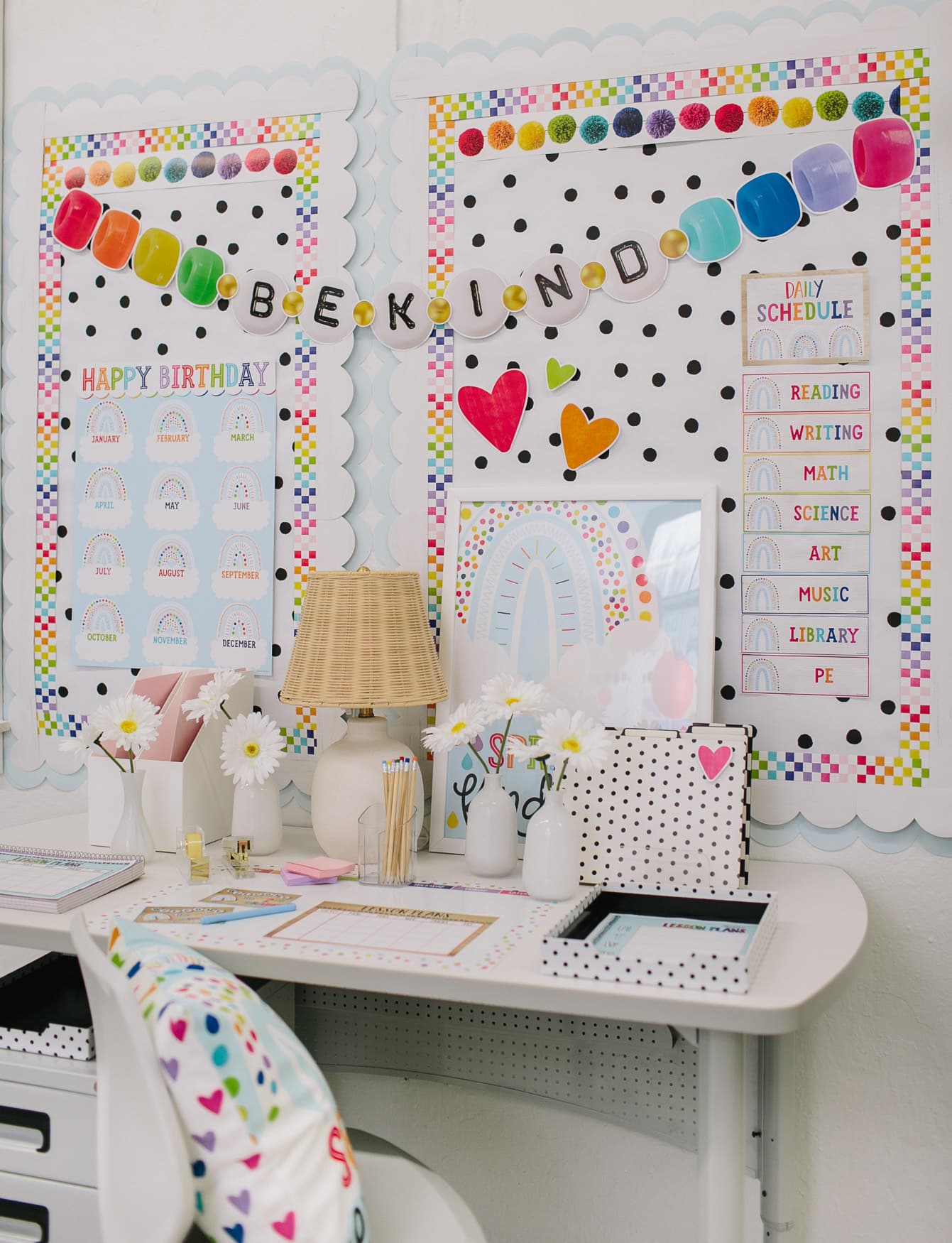 Sprinkle Kindness | Rainbow Classroom Decor
Retro Classroom Decor Inspiration
Send me the latest on Schoolgirl Style!